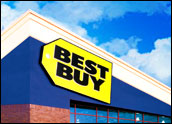 Best Buy has announced it will acquire troubled online music store Napster for US$121 million.
The deal includes $67 million of cash on Napster's balance sheet and values the Los Angeles-based Internet music store at roughly twice its Sept. 12 closing stock price.
Richfield, Minn.-based Best Buy, one of the largest retail chains of consumer electronics goods, declined to comment.
A Defensive Move
"It's an interesting move and looks defensive by Best Buy," Andy Hargreaves, an equity analyst with Pacific Crest Securities, told the E-Commerce Times. "It's trying to offset a decline in compact disc sales by acquiring a digital music provider."
The Napster acquisition indicates that Best Buy is moving into a new arena, Hargreaves suggested.
"It's interesting in that Best Buy is trying to get more into the service provider business directly," he said. "Selling consumer electronics hardware is not a functional business long term because the margins are too thin."
Integrating Napster: Potential Scenarios
With Napster reporting about $125 million in revenue in the last 12 months, the online music store will provide a marginal boost to Best Buy revenue, Hargreaves said.
Meanwhile, the consumer electronics giant will set to work integrating Napster's assets into its own product lines.
"They'll probably put up displays in Best Buy stores, but I think you'll also see the service integrated into hardware products in the store," Hargreaves said. "I'm sure they'll also offer [the Napster music store] online the same way it's offered today."
Good Day for Napster Shareholders
Best Buy acquired Napster, a pioneer in the online music industry, at a premium.
"It's definitely a good deal for Napster and a premium to where the stock was," Steve Frankel, an equity analyst with Canaccord Adams, told the E-Commerce Times. "The shareholders should be ecstatic given today's market action."
The Best Buy-Napster deal comes on a day when Wall Street has nearly been brought to its knees with the announcement that 158-year-old investment banking stalwart Lehman Brothers (NYSE: LEH) has filed for chapter 11 bankruptcy and that Merrill Lynch was sold to Bank of America.
The two announcements, combined with rumors that insurance giant American International Group may be on the brink of collapse, sent the Dow Jones industrial average down 300 points.
Napster, Frankel said, just didn't have the critical mass to continue operating as an independent company.
"Napster's tried multiple strategies and hasn't been able to develop a plan that sustains revenue growth or generates profitability," he said.
Best Buy might have been able to acquire Napster at a cheaper price, but that probably wasn't the company's highest priority, said Pacific Crest Securities' Hargreaves.
"I think they were more interested in getting the deal done so they can start integrating the product," he commented.
Best Buy Still Strong
Though the faltering U.S. economy has hit many retail chains hard, Best Buy has so far managed to maintain a strong market position.
"Best Buy is doing very well, given the economic environment," noted Hargreaves. "They continue to dramatically outperform all of their peers."
That said, Best Buy saw a dramatic decrease in profit and revenue last quarter.
The company reported earnings of $277 million on nearly $9 billion in revenue in the quarter ended May 31, down from earnings of $1.1 billion on $13.4 billion in revenue during the previous quarter ended March 31.
Though a much smaller business compared to Best Buy, Napster managed to hold its own in the last two quarters. The company reported a loss of $4.7 million on $30 million in revenue in the quarter ended May 31. Those results were a repeat performance: Napster also reported a $4.7 million loss on $30 million in revenue in the quarter ended March 31.