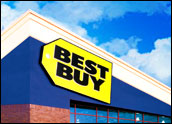 Consumer electronics retailing giant Best Buy is coming to an airport near you.
With 965 stores in the U.S. alone, Best Buy is already one of the most ubiquitous retail chains in America.
Now, the Richfield, Minn.-based company will soon have kiosks peddling electronics gear at major airports in Atlanta, Boston, Dallas, Houston, Las Vegas, Los Angeles, Minneapolis and San Francisco.
"We have very loyal customers, and we're always trying to find a new way to engage them," Jeff Dudash, a Best Buy spokesperson, told the E-Commerce Times.
Up and Running
Some of the kiosks are already in place, he said, with the rest set to open by Sept. 1.
Consumers will be able to buy cell phones, computer accessories, digital cameras, digital music devices such as MP3 players and iPods, travel adapters and the like. Best Buy, which has 150,000 employees, has partnered with San Francisco-based vending machine company ZoomSystems to deploy the self-serve kiosks at airports.
Selling MP3 players like iPods presents a unique quandary to Best Buy and its customers because those items are essentially empty vessels out of the package — there's no music installed on them.
"I suspect that type of product will be for customers that have their laptops with them, so they'll most likely be able to download their music from there," Dudash said. "But this is part of the test. One of things we'll take a look at is what products consumers have a lot of appetite for. If it turns out that this type of device isn't highly needed, we'll adjust our assortment accordingly."
Nearing Store Saturation
"Best Buy is nearing the saturation point in terms of big-box stores," Andy Hargreaves, an equity analyst with Pacific Crest Securities, told the E-Commerce Times. "This is just one more way to reach the customer."
Hargreaves identified two competitors Best Buy will face for customer attention in airport terminals: Bose and Brookstone.
Brookstone has 49 airport stores open, Judy Lurie, a spokesperson for the Merrimack, N.H.-based company, told the E-Commerce Times. In addition to many of the same electronics products one will be able to find at Best Buy's airport kiosks, Brookstone sells an assortment of specialty gift items such as portable massage devices, luggage, furniture and home office merchandise.
It will take some time to see what effect, if any, Best Buy's latest move will have on the company's financials, Hargreaves said.
"I don't think it will drive enough revenue, at least in the first year, to have a material effect on the bottom line," he said. "We'll have to wait and see. I don't think it's overly capital intensive so they should be able to manage the cost structure of that business fairly well."
Tough Times for Retailers
The move into airports comes at a time when Best Buy — and the entire retail sector, for that matter — is suffering through a down economy, Hargreaves said.
A quick look at Best Buy's quarterly financial statement shows the company has indeed experienced a sharp revenue drop-off as consumers save their pennies to ride out the turbulent economic climate.
Best Buy reported US$179 million in earnings on nearly $9 billion in sales in the quarter ended May 31, compared to $737 million in earnings on $13.4 billion in sales during the same period in 2007.
"Best Buy is absolutely being affected by the poor economy," Hargreaves said. "But it's a very well run company and well positioned to weather the storm. They have good store-level execution. It's easy to find things in their stores. It makes for a better in-store experience and ensures that people will return."