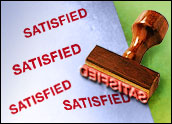 Customer satisfaction with retail has dropped for the first time in four years, according to the American Customer Satisfaction Index — except in the subcategory of e-commerce.
All of the brick-and-mortar retail categories registered weak or flat customer satisfaction for the fourth quarter of 2014, while online retail posted a year-over-year gain.
This reflects the growing popularity and convenience of e-commerce, said ACSI Director David VanAmburg.
The contradictory scores are also a reflection of larger trends that caught brick-and-mortar stores short, he told the E-Commerce Times. Rising prices have been an issue for grocery stores, for example, which translates into diminished customer satisfaction.
Also, it has been easy for e-commerce to shine in comparison, as sites continue to make investments that streamline the customer experience, VanAmburg said.
E-commerce suffered a hit in 2013 with late deliveries and other issues, he pointed out. These latest figures "reflect the fact that e-commerce has entered a rebound."
The E-Commerce Comeback
Within the e-commerce sector, there have been several nuanced developments, which is to say that satisfaction has not improved uniformly.
Customer satisfaction with Internet retailers rose by 5.1 percent to an ACSI score of 82 in the fourth-quarter in large part due to the rebound effect VanAmburg cited.
However, the gains also were fueled by smaller companies and the online business of brick-and-mortar retailers, which saw a satisfaction increase of 8 percent to 81.
Meanwhile, many pure-play Internet companies actually suffered declines, even as they remained at the top of their category.
Amazon's customer satisfaction dropped two percentage points to 86, for example. Overstock dropped three percentage points to 77, and eBay fell by one percentage point to 79.
Personalized Service
Personalized service likely accounts for that, suggested David Johnson, CEO of Strategic Vision.
"For smaller online retailers, the ability to provide highly customized service and communications is how they are able to compete with the Amazons," he told the E-Commerce Times.
Walmart, which started out somewhat late to e-commerce, has been catching up with a vengeance.
"Walmart is trying to take on Amazon, and one way to do that is with more personalized customer attention," Johnson said.
These overtures do not seem to translate to retailers' brick-and-mortar operations, however — at least in the case of Walmart.
Customer satisfaction with Walmart's brick-and-mortar operations has dropped, illustrating the widening gap between the best- and worst-ranked companies. At the top, Nordstrom gained 4 percent to 86, while Walmart dropped 4 percent to 68, stuck at the bottom of the category.
In fact, the only brick-and-mortar retailers to improve in the fourth quarter were Nordstrom, Macy's and Target — and for Target, the gain was a rebound from the drop in customer satisfaction it experienced in 2013 when its card operations were hacked.
Other changes have impacted customer satisfaction, such as ongoing merger and acquisition activities like Dollar Tree's purchase of Family Dollar.
"Mergers and acquisitions usually lead to lower customer satisfaction," observed VanAmburg.
"There are significant challenges involved in combining operations of two large companies, at least in the short-term," he pointed out, "and for customers, bigger is not always better."