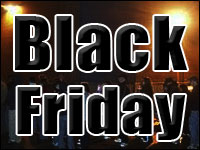 Some US$13.1 billion in sales are anticipated this Thanksgiving weekend across all manner of channels, from mammoth shopping centers to online retailers to local shops and pop-up stores.
Consumers are eager to score the best bargains, of course, while retailers want nothing more than to attract shoppers to their venues and keep them there for as long as possible this weekend. Why? Well, to lock in their holiday shopping budgets, of course.
However, the twain will not necessarily meet: Consumers may well find that better bargains are to be had if they wait until later in the season. Retailers, well aware of this propensity of their customers to play chicken with holiday purchases, deploy ever more clever pricing and marketing strategies to convince them otherwise.
Consumers fight back with their own set of tools to dig out the best deals.
Twitter Data
Twitter, for example, is a key source of information for bargain-hunters.
For Black Friday 2013, Twitter showed that offers from brands based on hashtags that used Black Friday spiked at 9:00 p.m. EST on Thanksgiving Day, and then again at 11:00 a.m. EST on Friday.
On Cyber Monday, conversation peaked between 10:00 a.m. and Noon EST, with some half million tweets related to the day.
In general, Twitter found that Wednesdays were the best day to score savings during the holiday season, as they garnered more mentions of #deals, #savings, #coupons, and other saving-related hashtags than any other day.
A Longer Cycle
Retailers and consumers who waited until now to begin their research and related shopping may have waited a bit too long, though.
The holiday shopping season is lengthening, and retailers are responding accordingly, BDO survey results suggest.
By Thanksgiving Day, more than one-third, or 34 percent, of retailers already will have run most of their holiday season promotions, based on participants' responses.
Many retailers expect that Black Friday and Cyber Monday will post only modest sales gains this year. Overall, retailers forecast a 2.4 percent increase in Black Friday sales and a 3.9 percent increase in Cyber Monday sales.
Those projections could be wrong, of course. Sales for both Black Friday and Cyber Monday surpassed expectations in 2013, BDO pointed out.
Still, consumers' insatiable desire for deals and discounts, could keep sales at modest levels during these two days this year. Retailers are having an increasingly difficult time keeping margins intact as they respond to this trend — and try to target consumers even earlier in the cycle.
The largest national retailers are best poised to compete. Companies like Best Buy and Walmart began advertising last month.
Best Buy dominated paid search activity in consumer electronics during the first three weeks of November, AdGooroo recently noted. Best Buy spent $9.8 million on 2,500 related keywords, more than double its next closest competitor, Walmart, which accounted for $4.7 million in spend.
The Anti Consumer
Not every consumer will be getting up at the crack of dawn to mob Best Buy or other stores on Friday, however.
Comunicano CEO Andy Abramson will be making a point to check out KickStarter and Indiegogo for holiday gifts this year, for example. Etsy is another favored site he plans to visit.
"That's where the unique, new and different products are going to be found," he told the E-Commerce Times.
Consumers are getting fed up with the hype around Black Friday, according to Jaime Brugeras, VP of analytics at Networked Insights.
It compared social conversations from 2013 to 2014 and was surprised by the changing tenor of the conversations about Black Friday.
For conversations indicating people were excited about getting Black Friday deals, share of voice dropped 7.7 percent, he told the E-Commerce Times.
Attitudes toward working hours for retail staff also appear to be changing in tone from last year, Brugeras said.
The topic has jumped from a barely measurable number in 2013 to 4.3 percent of all Black Friday conversations this year.
In addition, nearly 20 percent of conversations complaining about Thursday store openings are calling for a boycott, which Brugeras said, is "huge."
"Based on our analysis," he said, "consumers are calling for action and may vote with their dollars this Black Thursday."