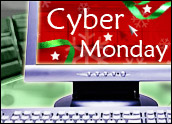 The Monday after the Thanksgiving Day holiday weekend, aka "Cyber Monday," lived up to its name and more this year.
Despite a ho-hum level of sales volume over the past four days, online sales on Monday were up 8.7 percent over the same period in 2013 by late afternoon, according to the IBM Digital Analytics Benchmark.
Mobile Monday?
Continuing a trend that has been growing for the last few years, mobile sales accounted for 21.3 percent of all online sales on Cyber Monday, an increase of 29.3 percent year over year.
Tablets were the top device through which consumers made their purchases. Tablet sales accounted for 11.5 percent of online sales, compared to smartphones, which accounted for 9.8 percent of total online sales, a difference of 17.9 percent.
Not that the news was uniformly good for retailers. The muted spending that characterized Thanksgiving Day and Black Friday also was evident on Cyber Monday, IBM noted.
The average order value was US$133.07, flat compared with 2013. Shoppers purchased an average of four items per order, up 4.7 percent. For retailers, these two statistics do not necessarily bode well, as they suggest shoppers are savvier about using online coupons and rebates to secure the best bargains.
Another finding probably not to retailers' liking, given the traction mobile shopping is gaining, is that consumers tend to spend more when they buy on a desktop compared to a mobile device.
Consumers' average order value when purchasing by desktop was $138.17, compared to $119.16 when using their mobile devices, a difference of 16 percent.
A New Tradition
Despite those shifts, Cyber Monday as a retail event is here to stay, said Mousumi Bose Godbole, associate professor of marketing at Fairfield University.
"With millenials using technology to make purchase decisions, retailers small and big have to drive product sales through technology," he told the E-Commerce Times.
Cyber Monday is stretching to become Cyber Week, as retailers continue to chase shoppers with deals and discounts, Godbole observed.
"The promotions will continue to spill over," he said. "This is seen in furniture stores, giant retailers and others having promotions for the rest of the week."
"Cyber Week" now is overshadowing Small Business Saturday, Godbole lamented. "We still need the small businesses to do well, especially the brick-and-mortar small businesses."
Evolving Patterns
There were similar shifts during the Thanksgiving Day and Black Friday shopping frenzy. Online sales did well, while brick-and-mortar retailers tended not to fare as well. Consumers in both channels tended to be particularly savvy in their purchases, though, with the expectation that bargains will be available throughout the season.
"What's clear is that consumer behavior is evolving," said Scott Fenwick, senior director of product strategy at Manhattan Associates,
The overall figures both in terms of dollars spent and orders placed are down or flat, but that doesn't mean less shopping is occurring, he told the E-Commerce Times.
"What it really reflects is shoppers are taking advantage of greater options available to them, such as viewing online and buying in-store, and that consumers view holiday shopping as an entire season," Fenwick said.
It's a win-win for retailers and consumers, as improbable as that seems, he maintained. "In the end, consumers win because they can take advantage of very low prices and personalized delivery choices. Large retailers also win because they can expect strong sales during the rest of the holiday season, surging to approximately $89 billion."
The lesson for retailers is they need to stay alert throughout the entire season, Fenwick suggested, focusing less on the shopping channel and more on the total consumer experience.