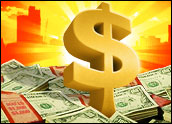 For those who are hungry for some good economic news, venture capitalists apparently are seeing green in clean technology.
Indeed, so-called green technology — everything from eco-friendly auto parts to alternative fuels to smart buildings to streamlined manufacturing processes — appears to be blooming, even if the world economy is in wilt mode.
The National Venture Capital Association is making just that contention, and it's offering some numbers to back up its case. To start with, US$2.2 billion was invested in clean-technology businessess in the first half of this year, According to a report the association issued jointly with Ernst & Young. The sector drew $3 billion in investments for all of last year, and that set a record.
"I actually see a continuation of more and more investment," Mark Heesen, the association's president, told the E-Commerce Times. "Venture capital firms are starting to raise funds, working on the idea they're investing in clean technologies."
Q3 Numbers Up
The third-quarter numbers, which came in earlier this month, appeared even more promising, Heesen said.
"We saw in the clean-tech sector just a little over $1 billion invested in 73 deals," he noted. "That was 14 percent better than in the second quarter, when we saw $887 million invested."
Solar power and biofuels have attracted a lot of investment, but money is finding its way to other areas now.
Investors are looking into such diverse areas as water purification, "smart" buildings and what Heesen called "brown-tech," which pertains to extracting existing oil and gas in a more-efficient manner.
"Venture-capital groups are going to be looking at all those things as time goes on," Heesen said. "Not all will be winners, but that's all part of the process."
Conventional wisdom holds that clean tech is relatively insulated from some of the harshest shocks that have hit Wall Street in recent times.
However, it's not inconceivable that the current financial crisis might touch clean tech, cautioned Daniel Hullah, principal with RockPort Capital Partners.
"It's too early to see exactly what's happening," Hullah told the E-Commerce Times. "I suspect the investment tempo will slow down, and I also suspect company valuations will come down."
Wait and See
How much they'll go down is a wait-and-see proposition, he said.
"I think there are some things that are common to the venture sector as a whole, and there are some specifics with regard to clean tech, let's say," Hullah said. "The venture sector is, as a rule, in a challenging time."
However, clean technology is — so far — the exception to that rule.
"The money going into the green sector has been steadily increasing — just over $6 billion in the U.S. in clean-tech venture capital across a wide range of categories, including solar and various forms of biofuels and others," added Hullah.
"Many people see First Solar as the poster child," he said. "A lot of money is going to next-generation solar technologies, and the venture capital community is eager to see returns from those investments."
Those investments are by and large hefty — clean tech tends to be capital-intensive.
"Building factories to produce solar panels … requires many hundreds of millions of dollars, and much of that investment is going to come as debt, as well as equity," Hullah said.
Tax Credits Help
The extension of the solar investment tax credit, which was part of Congress' $700 billion Emergency Economic Stabilization Act of 2008, was crucial to the solar industry, Hullah pointed out.
"That the tax credit can be used by utilities is a big deal, but it's only a bridge to these technologies performing without that crutch," he said. "It's a means to an end."
Wind energy technology has drawn increased interest from investors in the last year or two.
"I think the wind business has a lot of very large companies in them, like GE and others," said Hullah. "It's not necessarily a venture-capital model as much as a project-financing model."
States like California are promoting clean tech through tax credits and working through pension funds to encourage investment in the sector, NVCA's Heesen noted.
"The stars are aligning in the clean-tech arena, and venture capitalists will continue to invest in the sector," he said. "This is extremely long-term oriented."
The trend is building steam outside the U.S. as well.
In Canada, the Ontario provincial government has launched the Next Generation of Jobs Fund, for instance, which is providing funding for "market-ready technologies" that can jump relatively easily from blueprints to the factory floor or computer screen.
The provincial government has set aside CA$1.15 billion to fund such projects.
The fund is available to companies in technology subsectors that develop products designed to reduce pollution, save energy, make transportation more efficient or help the environment in other ways, while creating jobs in Ontario. Recipients have to agree to operate in the province.
Ontario Effort Progressing
The fund focuses on digital media, communications and IT; green technology manufacturing; and clean tech, fuels, industries, as well as environmental technologies.
"It's government support program for innovative investment," Fernando Traficante, the Toronto-based director of the Next Generation Jobs Fund, told the E-Commerce Times. "It's not for startups; it's for companies that already are green. It's for companies that have proven out their technology and want to take their technology to a commercial scale."
The fund promises a decision to submitting businesses within 45 days and offers cash payments and tax incentives for those that qualify.
As of mid-October, two projects had qualified for fund support.
"The first is [research and development] with a global pharmaceutical company, and we're supporting their R&D around cancer vaccines," Traficante said. "The second is a small company, 6N Silicon. They have developed a new technique to reprocess silicon [to] photo grade for solar cells. Basically, they take low-grade silicon and reprocess it to a higher grade, which is cheaper."
6N Silicon's new process satisfies the solar industry's primary demand for purified silicon, said David Dunnison, the Vaughan, Ontario-based company's vice president business development.
"The solar industry has grown so quickly that it has outgrown the supply of silicon," Dunnison told the E-Commerce Times. "The conventional sources of purified silicon have not been able to keep pace with the silicon industry's rapid growth. We have a dedicated solution for the solar power industry that can meet its growth aspirations and its cost parameters."
It's a "double win," he said, because the process allows the company to use less than one-fifth of the energy that more conventional processes require.
"With reduced input energy requirements, we have a more environmentally friendly and more economical solution for the solar industry," asserted Dunnison.
The Next Generation fund could work with a range of new technologies, Traficante said, including lighter and more-efficient auto parts, new aerospace techniques, and green production methods.
Investing in clean tech likely will continue to grow globally, Heesen predicted. With the global economy slamming on the brakes, any pockets of growth are more than welcome.