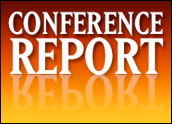 I couldn't help but feel a bit of deja vu this morning as I enteredthe Desert Springs resort in Palm Desert, Calif., to attend eTail2008. After all, I reported on the event last year in the same venue,and the hotel's atmosphere is as oasis-like as I remember it.
This year's event is indeed similar to the 2007 gathering: Thesetup looks familiar, and the crowd is once again comprised of exhibitorseager to pitch their products, as well as e-tail shop representatives antsy tolearn a ton in the sessions.
However, as I strolled the bustling show floor and sat in on packedsessions, I saw a few intriguing new products among the exhibits and overheard conversations suggesting that what's top of mind for attendees has shifted since last year.
The Quirky Stuff
Fun stuff first. Here are somethings that caught my eye on the show floor:
New Products
IBM caught my attention with its big blue booth. I noticed a virtual world on a large display and some goggles, so I darted in, and IBM's Brent Cossey told me allabout the company's new technology they call the "cave demo"or the "goggles demo." Whatever it's called, it's pretty cool, in that itties in virtual reality with e-commerce.
I put the goggles on, and there I was inSecond Life, exploring aroom that I could design to replicate one in my home — complete with its specific dimensions — so I could see how a specific vase or TV orwhatever would look there. IBM rolled out the demo at the NationalRetail Federation event a few weeks ago, Cossey informed me.
The Buzz
Almost as soon as I arrived at eTail Tuesday, I started hearing the words "socialnetworking" everywhere. Nearly everyone I spoke to or listened to at a session mentioned some aspect of the online phenomenon, such as social shopping or community building.
There are several sessions that focus on this topic, including "Taking a Deep Dive Into the Future ofCommunity: The Convergence of Retail and Community-Building Online." Iattended this session, and although I had to walk outside in thedesert heat to get to it and then sit in a row of chained chairs thatmade me feel like a sardine, the speakers' talks were thoughtprovoking.
Pinny Gniwisch, senior vice president of marketing forIce.com, offered a simple strategy for the future of e-commerce: "Howdo we retain the customers that we have and keep them coming back overand over again? Community is going to do that."
Stay tuned for more live reporting from eTail 2008 on Wednesday!
Click here to e-mail Rachelle Crum.