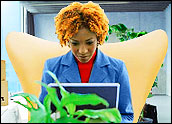 E-tailers are taking a new look at personalization these days as they hunt for more ways to cross-sell, upsell and encourage repeat business. E-commerce solutions providers and research firms are advocating the integration of personalization into online strategies as one way companies can optimize cross-channel marketing and keep pace with the industry's changing dynamics.
Personalization tools let e-tailers make tailored, real-time recommendations for additional purchases at various stages of the shopping cycle — from the initial view of product details to the shopping cart and final order confirmation pages. They offer e-commerce firms opportunities to maximize the value of each customer interaction and promote customer loyalty.
The leading book retailers appear to have mastered this strategy: Amazon has its "Recommended for You" items and "Customers Who Bought … Also Bought"; Borders' new online storefront includes a Magic Shelf — a feature that lets customers view as many as 20 shelves of book, movie and music titles matched to their tastes; and Barnes & Noble suggests items "You May Also Like" during checkout, in addition to listing "also bought" information.
A Top Priority
E-tailers are turning to personalization for an assortment of reasons — to increase sales, to keep up with competitors, and to differentiate themselves in a crowded field.
Penetration of U.S. households is leveling off, and "the trick now … is to get more out of existing customers," says Forrester Vice President and Research Director Carrie Johnson.
Experienced online shoppers like recommendations, she notes; they are much more interested in engaging with a customizable tool than others, and they're willing to spend more money.
"The bigger the spender, the more interested they are in personalized recommendations," says Lori Trahan, executive director of marketing for ChoiceStream.
Seventy-six percent of consumers polled for ChoiceStream's 2007 personalization survey said they wanted personalized recommendations, and 56 percent said they were more likely to return to Web sites that offer them.
Research and Solutions
Other researchers and e-commerce solutions providers — including the Aberdeen Group, Sitebrand, ATG and Loomia — are also pushing personalization with renewed gusto.
For example, Aberdeen reports that a whopping 91 percent of the Best-in-Class organizations that participated in a 2007 survey saw improvement in online conversion rates after introducing personalization.
"More and more retailers are turning to it," Sitebrand President and CEO Justin Shimoon told the E-Commerce Times. "The technology has gotten much better, and it's a proven methodology."
Countless retailers have been running their online storefronts for several years now, and are ready to take their operations to the next level, Brian Collins, vice president of product management for ATG, told the E-Commerce Times.
Companies used to view their online stores as just another outlet, but "I think there's just a certain level of maturity that retailers are reaching online," he said. "More recently, they've gotten more focused on optimizing e-commerce and taking operations that they have and increasing sales."
Weighing Options, Measuring Results
However, piecing together a personalization strategy can't be done overnight. Among the numerous factors e-tailers need to consider are whether to use manual or automated personalization tools (or a combination of both); how to measure results; and how to match products to customers — including new, anonymous customers they don't yet know anything about.
E-tailers can use clickstream or popularity-based data to serve new customers with recommendations, suggests David Block, ChoiceStream's senior vice president of product marketing and product management. Within a few clicks by a new customer, a personalization engine can begin to make timely recommendations.
Alternatively, a retailer can suggest popular or traditional items instead of going out on a limb with scant data from a few recent clicks. Of course, that's not very personal.
"Traditional recommendations are valuable but limited," Block acknowledges. "They don't maximize the real estate [but] they're certainly far better than doing nothing."
E-tailers can also piece together suggestions by analyzing users' historical data — that is, accessing cookies, Sitebrand's Shimoon notes.
However, while retailers are collecting these piles of data, they aren't necessarily being studious about measuring the results, adds Block. "Most retailers put solutions in place and actually don't measure them, [but] measurability is critical. … Without the measurability, you don't know if you're succeeding."