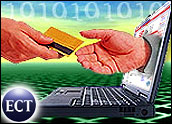 Borders officially cut its ties with Amazon.com on Tuesday, with the rollout of its long-planned solo e-commerce site. The book retailer announced last March that it would go it alone online after teaming with Amazon for six years.
Borders is now striving to differentiate itself from its online competitors — namely, Amazon and Barnes & Noble — with some unique features. The company wants to create more of a brick-and-mortar experience for its online customers with the "Magic Shelf," for example — a feature that allows users to view as many as 20 shelves of book, movie and music titles. Borders customers can personalize the Magic Shelf by using the "Picked for You" feature to select categories of interest. The Shelf instantly reloads with title suggestions.
The new site gives more prominence to original video programming from Borders Media, including "Borders Book Club," "Borders Kitchen" and "Borders Open Door Poetry." Additionally, Borders.com for the first time allows Borders Rewards members the opportunity to earn and redeem Rewards coupons and Borders Bucks online.
Connecting the Experiences
The retailer is further seeking to mesh the online and brick-and-mortar experiences by allowing customers to search Borders.com for items to pick up in-store; to order an item via an in-store kiosk and have it shipped to the store or home; and access online-generated wish lists in-store. In-store Borders customers will have access to the site via new kiosks within the next couple of months.
The Borders wish list feature is a response to customer interest, Borders Vice President of E-Business Kevin Ertell told the E-Commerce Times. "Every time I talk to customers about that, I always hear about scraps of paper [being brought to stores]."
The retailer wants to allow online customers to experience "the sense of discovery" that people have in bookstores and to offer high quality customer service, he added. "Our customers deserve a seamless experience with Borders that remains consistently satisfying no matter what the time or place."
Noticeable Improvements
The site "looks more catchy" and is easier to navigate, Sandeep Walia, president of the e-commerce solution provider Ignify, told the E-Commerce Times. "They've upgraded it to being more customer-friendly."
However, Borders needs to pull out all the stops in order to compete on its own against Amazon and Barnes & Noble, Alan Chapell, president of Alan Chapell & Associates, told the E-Commerce Times.
"You've got to be able to do it better — be more intuitive," he said. "If their play is to imitate the BNs and Amazons of the world — [that's] problematic. If all they're doing is [selling] books the same way as the other guys, that may not bode well for them," he added. "It's really hard not to have that whole business become a commodity business."
Buyout Looming?
Meanwhile, Barnes & Noble has "formed an internal committee of senior executives to look at the feasibility of acquiring Borders," Barnes & Noble spokesperson Mary Ellen Keating told the E-Commerce Times.
Borders shares were down 9 percent in midday trading Tuesday, to US$6.11. The company will report its first quarter earnings on Wednesday.
Barnes and Noble shares, meanwhile, held steady around $28.59. Amazon shares rose 0.5 percent to $78.76.
Borders operates more than 1,100 stores; Barnes & Noble has 800.