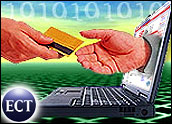 When an e-commerce startup talks about upending the business model on which Amazon and eBay and other e-tail giants have built billion-dollar businesses, it's clear it doesn't lack ambition.
Still, the founders of Cartfly believe the new face of the Web will eventually create a new way to sell and buy goods online, one as broadly distributed and spread out as social networking itself.
Founded out of the Phoenix-based UStrive, Cartfly is aiming to use a distributed e-commerce model to enable retail sales to be brought into social networks, allowing retailers to establish a point of presence right inside profile pages and other sites, cofounder Joshua Manley told the E-Commerce Times.
Taking the Store Everywhere
Cartfly is currently targeting small businesses, and believes it offers an alternative to the tech-heavy approach that many other e-commerce widgets use to get to the same result, Manley added.
"We did about two years of due diligence because we wanted to know what's new and what's really going to work with merchants," he said. "Distribution and presence is key. If you're not on the first page of search results as a small merchant, you're getting lost. We wanted to look at what are the different ways to market and drive products out there. By embedding the store, you can take it everywhere you want it to go."
Early in the Game
A host of other e-commerce widgets have rolled out over the past year, including Shopit, BlinkCart and Nimbit. Amazon and eBay are developing their own cadres of widgets and plug-ins as well, with eBay recently sponsoring widget-building contests to entice developers to make new plug-ins for the auction giant.
So far, the model has yet to be proven a winner from a money-making perspective. In the case of Cartfly, the firm gets a 3 percent cut of all sales made through their widget stores. There are no fees to set up a store and no listing fees.
"The ability to distribute content to where people are, rather than forcing them or enticing them to come to you is what's so appealing about widgets," comScore Senior Analyst Andrew Lipsman told the E-Commerce Times.
While pure content widgets are soaring in use — with everyone from Yahoo and Google to Apple and Microsoft enticing developers to create thousands of such software plug-ins to distribute everything from stock quotes to horoscopes — it may take time for people to get used to the distributed model for e-commerce, he said.
In the case of Cartfly, users interact first with the Cartfly widget and then with a PayPal interface to make a purchase.
All in Context
The most appealing part of the widget approach is the ability to reach users where they are already spending time, which increasingly is within social networks such as Facebook, Manley argued. Just as contextual advertising is seen as a killer application online, contextual sales may hold similar promise.
The ease-of-setup — the Cartfly widget is based on the Adobe Flex platform — has helped drive early success of the firm, with more than 4,000 stores now set up, Manley said. Many users are the young consumers who flock to Facebook and similar sites, with the average user between 18 and 35 and many of them hobbyists making pocket money on the side.
"You have to engage that audience," Manley commented. "A link is not very engaging. But if you put products in front of them, right in that place where they're already looking at content that interests them, that's a way to really grab their attention.
"What's exciting is that we're not focusing on building the next social network," he added. "We're focusing on how we can empower merchants online and offline to get their stores out to where there is already buzz going on."
The Next Big Thing?
The site went live in a private beta last fall. A more public launch took place in early April, though the site has yet to start aggressively marketing itself. Cartfly's Facebook app launched recently and in April, the firm announced that David Watson, a member of the Watson family that helped make IBM a tech powerhouse, had joined its board of directors.
"People are receptive because sellers understand that even if they have run a successful online store in the past, they are missing sales if they don't have a store highlighted in MySpace," he added. "We are really pioneering distributed e-commerce. We think it is the next huge thing to be offered on the Web."