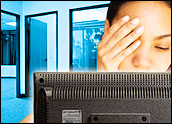 All of the anxiety-producing statements that drove tech and telecom stocks up and down last week have me feeling like Chicken Little — and I'm a mere mutual fund investor.
On Tuesday, AT&T Chairman and CEO Randall Stephenson scared the bejesus out of investors when he said "We're really experiencing some softness on the consumer side — from the economy." The telecom giant's share price took a near-9.6 percent dive — from $41.61 to $37.67 — within the hour followingthe exec's first mention of this negative impact.
The current economic conditions, spawned by the subprime mortgage crisis, are hitting the company's telephone access line business — along with broadband — hard. I suspect a lot of the "nonpaid disconnects" are customers who lost their homes. After their credit scores got dragged through the mud during the foreclosures, they may have figured not paying utility bills while packing up wouldn't make much of a difference. Other nonpaid disconnecters are possibly on the road to foreclosure or just flat-out having a personal financial crisis. It's pretty much a really ugly domino effect.
Downward Spiral
Unfortunately, Citi and AT&T are only making audio available of this session, so I can only envision Stephenson's facial expression after an audience member pointed out to him that the AT&T share price was on a downward spiral because of his negative comments. (By the way, Stephenson's comments sent multiple other telecom firms' share prices down, including Verizon's — which went from $44.15 to $40.98 within the hour — a 7.2 percent decrease.)
Was it a look of horror? Or was the newbie chairman — he took the company's reins in June — calm and collected, fully confident in his company's assets and growth? (I couldn't find any Stephenson-facial-expression comments in the blogosphere.)
Nevertheless, most of Stephenson's comments in the 48-minute Q&A were very upbeat and optimistic. He went on and on about the growth of wireless, and how economic softness isn't really impacting that sector. "As the economy gets soft, wireless starts to become the last thing it seems like that consumers turn to (to forego) and that traditional access line becomes one of the first," Stephenson said.
Of course wireless is OK. I, for one, haven't had a landline for years. People aren't going to fork over their cell phones because they're running out of cash. They'll trade their stoves in for hot plates. They'll sell one of their cars. They'll opt for ramen over P.F. Chang's. Cell phones are absolute necessities for emergency purposes, and besides, we just can't live without them.
What Now?
AT&T's stable wireless division, I think, will make up for its landline losses. Stephenson expects AT&T's wireless business growth to be in the mid-teens, he said, noting, "the whole revenue story begins with wireless."
Also, two days after Stephenson's Q&A, Verizon President and COO Denny Strigl took his turn at the mic. Lucky for all of those Wall Street people taking Tums in anticipation of more of the same, Strigl saidVerizon wasn't seeing any impact from the economic slowdown. (Verizon's share price didn't exactly spike on Thursday following the news — it actually went up and down quite a bit, with a 1.5 percent drop in the 30 minutes after Strigl started his talk.)
So, is the sky falling on all of us, including the wireless industry? Well, if big investors quit reacting to every tiny piece of so-called bad news, yes. If they had listened up to the rest of what Stephenson said, they would have realized that wireless will save the day — eventually.
I'm still keeping an eye on the sky though.
Click here to e-mail Rachelle Crum.