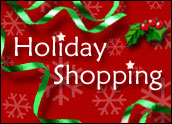 While brick-and-mortar retailers assess the damage from what could be the worst holiday shopping season since 2002, online retailers are celebrating a banner year. For the 2007 holiday season, online shopping reached nearly US$28 billion, according to a report released by comScore. That represents a 19 percent gain for e-tailers during the 57 days the study regards as the holiday season — Nov. 1 through Dec. 27 — over a similar time period in 2006.
"Even as the holiday shopping season winds down after Christmas, we continue to see some relatively strong online spending days," said comScore Chairman Gian Fulgoni. "For example, the day after Christmas saw online sales of $545 million, more than double the sales on the same day last year. This would appear to indicate that consumers were willing and able to take advantage of the attractive late-season promotions and price discounts offered by retailers this year."
Good to Be an E-Tailer
Economic worries, including gasoline prices that climbed to more than $3 per gallon and declining home values in the U.S., seemed to have impacted offline stores and held offline sales growth to between a scant 3 and 4 percent. However, such worries appeared to do little to discourage Internet shoppers.
During the holiday shopping crunch time, the 32-day period between Thanksgiving and Christmas, online sales grew by 21 percent to $17.98 billion.
"Twenty-one percent increase in sales is a significant increase for online retailers," said Kurt Peters, editor-in-chief of Internet Retailer. "Though we won't have the final numbers for offline retailers until later in the month, it's still seven times the 3 to 4 percent growth we expect for offline sales."
"These numbers are quite strong and are even stronger depending on who is surveyed, which retailers are included, etc. Any double-digit percent increase is respectable and far stronger than bricks-and-mortar growth rates," Sucharita Mulpuru, a principal analyst at Forrester Research, told the E-Commerce Times.
"Also, online shoppers tend to be more affluent and more convenience-seeking, so they're not as likely to cut back on spending due to economic conditions," she added.
However, the 19 percent growth rate for the entire holiday season — all of November and most of December — is somewhat below the level of increases e-tailers have become accustomed to over the past several years. Sales numbers for the 2007 holiday season mark the slowest growth for online sellers since comScore began tracking online sales in 2002. In 2006, for instance, online sales grew by some 26 percent.
"Warm weather during the early part of November took its toll on online retail sales, and played a role in holding down the growth in spending over the entire holiday season to a 19-percent rate, which is below last year's level of 26 percent," Fulgoni explained.
The Convenience Factor
Online retailers have several factors working in their favor that offline retailers cannot offer.
"[It's] convenience, selection and value. Sometimes discounts can be deeper because many companies have lower costs of operation, but consumers don't always go with the cheapest price — they tend to do go with the most trusted retailers," Mulpuru explained.
"It was the convenience of online shopping and the ability to do price comparisons," Peters echoed. "Those are two of the most important factors that bring people online. Especially with the economy the way it is people are a little more cautious about their spending and want their dollars to go farther. So they're more likely to go online and comparison shop.
"And the convenience just can't be beat. People these days are so busy. It's so easy to be able to go online anytime you want and get it delivered," he told the E-Commerce Times.
Although shipping costs have been a sticking point between consumers and online vendors, many retailers offered their customers free shipping, removing one of the impediments for online shoppers.
"Shipping costs have always been and will always continue to be a point of friction. That is why many retailers offer free shipping during the holidays," Mulpuru noted.
"Costs were equal to what they have been in the past," Peters added, "and people are willing to accept that. We saw a lot of free shipping offers this year, including from such leading companies like L.L.Bean that offered free shipping for practically the entire fourth quarter of the year. So, people were looking around for free shipping offers. But if they weren't there, people paid the shipping to get the convenience."
Have an Internet Strategy
When consumers do the math and figure out that they will have to spend a couple gallons of gas going to the store, it puts the $5 shipping cost into perspective, Peters said.
Peters expects the decade-long trend continue in 2008, seeing online retail sales expand much more rapidly than sales for offline vendors. However, he has one warning for brick-and-mortar shops.
"The takeaway for retailers is that they have to have an Internet strategy. If they don't have a well-thought-out Internet strategy they are giving away market share. They have got to get a piece of that 21-percent growth in online sales or they aren't going to be around.
"It's as simple as that. People are buying online. They are shifting their buying online and if you as a retailer do not have a strong, well-thought-out Internet strategy, you are going to be left behind," he concluded.