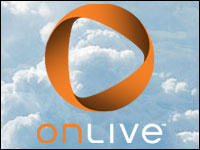 It's Game Developers Conference (GDC) time, and that means plenty of news — some good; some great. Thus far, the most eye-catching announcements out of GDC '09 have come from two upstart hardware makers — one trying to bring console gaming to users around the globe, the other aiming to take the console out of the gaming equation altogether.
Also, NPD released its monthly sales tracking data, and despite the ongoing global economic crisis, the gaming industry continues to see significant growth.
Changing the Game
Two potentially game-changing announcements came recently from Zeebo and OnLive. Both hardware makers revealed new systems that could dramatically expand the number of gamers in the world — or even make the console a thing of the past.
First up is Zeebo with its new videogame console. Expected to begin shipping in Brazil as early as April, the company touts its creation as the "first affordable 3-D game console" designed for and aimed specifically at emerging global markets. The system features a secure 3G wireless game delivery system and addresses the region-specific requirements that often plague the bigger-name market dominators.
Initially targeting the Brazilian middle class, the Zeebo console will offer users the opportunity to join a worldwide gaming community without having shell out a large wad of cash for the system or the games. In addition, the console makers say they're looking to provide content that is both culturally and locally relevant and also cut down on software piracy, therefore making these markets more attractive to content developers.
"Zeebo is seeking to exploit an underserved niche — a large Brazilian middle class who want to play games, but because of tariffs and taxes, can't afford to buy a current-generation console," Michael Pachter, a Wedbush Morgan analyst, told the E-Commerce Times. "Publishers have avoided the market because of piracy concerns, and there is a large infrastructure built for cellular phones. They've figured out a way to distribute games wirelessly, offer PS1/PS2 quality games, and do it all for a reasonable price."
The console will ship with four pre-embedded games, and users will also be able to download a fifth title at no charge. It will retail for US$199 in Brazil. In other locales, scheduled for rollouts later in the year, the price is expected to drop to $179. Prices may continue to decrease in 2010 as Zeebo anticipates another $30 price cut to $149.
Zeebo is taking a very big risk, Rob Enderle, principal analyst at Enderle Group, told the E-Commerce Times. "I don't see the right end game here.
"We've had a lot of people try this thinking it would be a technology play, but it's all about the content, and that has been very difficult to get off the ground because so many developers have been burned and they would rather focus whatever resources they have on products that actually have an installed base. The buy-in here is pretty big at the moment. In other words, you have to pay a large number of developers to build you stuff, and I don't see that here," he explained.
We Don't Need No Stinking Console
Also attracting attention at GDC '09 was OnLive, a Palo Alto, Calif.-based company that has pioneered a console-free, on-demand video game system. The system is comprised of the OnLive MicroConsole device — roughly the size of a deck of cards — and the OnLive Game Service. The cloud-based system streams games from OnLive's remote servers.
Gamers can get the same experience on almost any Internet-connected PC or Mac via a small browser plug-in from OnLive.com — and even low-cost computers will play high-performance games, according to the company. Whether on a TV, a PC or a Mac, OnLive provides instant access to both solo and multiplayer games.
"Hosted gaming is the future of console gaming and likely the majority of PC gaming as well. OnLive is the first big step to that future, and this is truly a game changer," Enderle said.
The service could pose a threat to traditional console makers, he noted.
"Once you host something like this and make it work, you effectively eliminate the hardware risk and the consoles can drop to aggressive prices — and with subsidies could even be offered near free. We are clearly on this path, and the result could aggregate all of the game developers on one cloud-based platform. If that happens, traditional console gaming is dead," Enderle explained.
Currently in a closed beta, OnLive expects to open up the service as a public beta during the summer and launch officially in the winter.
Stats and Figures
In other news, NPD's gaming sales results for February show that the industry continues to make gains even as consumers cut back spending in other areas of entertainment. Overall sales revenue for the second month of the year topped $1.47 billion, a 10 percent increase.
Microsoft saw big gains with its Xbox 360 console, selling 391,000 units. However, the Wii continued its domination of the hardware sector, with consumers purchasing 753,000 consoles. Sony's PlayStation 3 continued to trail with just 276,000 units sold.
The Xbox's gains are putting Microsoft in an increasingly advantageous position, according to Enderle. "It's a combination of better game selection and attractive price against the Wii, which lacks game depth, and the PS3, which is too expensive. Microsoft is starting to corner this market," he said.