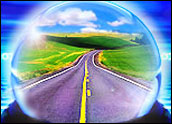 It's been nearly a decade since the Internet bubble burst in 2001, and the intervening years have seen the rise of powerhouse companies such as Google, MySpace and Facebook, which have helped broaden the scope of what was once referred to as the "Information Superhighway."
The Internet was once limited primarily to email communication, file transfers and other rather mundane purposes. It's now evolved into a global social gathering place with as many diversions as the local mall, multiplex and fairgrounds combined. Users turn to the Web to read and post news and opinions on a smorgasbord of topics from politics to food.
However, as the impact of an ongoing global economic crises continues, is the outlook for online businesses and services as rosy as it has been for the past eight years?
Cash Flow Impediment
The world — both online and off — is still coming to grips with the economic downturn that hit full force in September 2008.
Disappointing fourth-quarter figures that saw ad sales increase less than one-half of a percent have lowered expectations for online ads over the rest of 2009.
"When we ran the numbers for Q4, we were pretty shocked, because it was much worse than we thought it would be," Karsten Weide, an IDC analyst, told the E-Commerce Times. "Overall growth in Q4 year-on-year was just 0.4 percent. It was essentially flat, and the only reason why it was still at least a little bit of growth was because search grew by 10 percent. But display [advertising] declined by 7 percent, and classifieds dropped by 18 percent."
The first quarter of 2009 will not see much improvement for online advertisers, according to Weide.
"We think that the search growth rate will still go down to 8 percent, display will be worse than last quarter, and classifieds will be as bad — maybe a little better — with a big loss but not quite as much. If you count these all together, we think the bottom line is that online advertising may decline this quarter by as much as 4.8 percent," he explained.
That would make this the first time since the bubble in which the segment will see losses for the second quarter in a row, Weide observed.
Sales will likely hit the bottom around the middle of 2009, he said.
The economy is unlikely to recover with the same speed that it tanked, in Weide's view. "We think it's not going to be a U-curve, recovering as quickly as it went down. We expect a long, protracted recovery phase with growth starting again in 2010."
Companies whose advertising formats or venues are still considered experimental will take the biggest hit, according to Weide. "That includes social networks, even though they made US$50 million dollars last year."
Google is in a good position. Because the company focuses primarily on search, it is insulated somewhat from the turmoil. Microsoft and Yahoo have seen ad sales decline, but their display businesses have not been as deeply impacted as those of other, smaller companies.
Given that advertising is the bread and butter of a wide array of online businesses and services, the loss of revenue could have a significant impact on what companies will be able to do in terms of developing new technologies and business models.
Early Birds and Worms
Despite the loss of advertising revenue, smart companies will invest even more in research and development, according to Weide.
"It should prompt them to spend even more money on research. You need to explore the market segments that are just coming online, like online video — and mobile, to some extent. Plus, you need to put money into technologies that make your advertising offer more attractive to advertisers," he said. "We're talking performance advertising here: behavioral targeting, semantic targeting, social advertising and things of that nature and things that have a service quality to them — media planning, integrated dashboards, in-gaming and possibly creative services as well."
Despite concerns about user privacy, behavioral targeting, semantic targeting, and advertising on social networks are very promising fields.
"There's a lot of pressure on marketers to deliver online for the same money or less money for advertisers," Weide said. "Yahoo is the big guy, and [there are] a number of small players like Q Interactive.
The biggest risk there is privacy concerns, and most of them are not evil," Weide said.
In a few years, it is possible that advertisers will have come up with multiple new methods of reaching consumers, all designed to offer up ads that are the most relevant for them based on location and other demographics.
Searching for the Answer
When it comes to search engines, there are a number of technologies from larger and smaller companies that could still shine despite the tough economic conditions, Susan Feldman, an IDC analyst, told the E-Commerce Times.
"When I looked at Kumo from Microsoft Live, I thought 'Oh, yeah.' We're beginning to see inklings of what they're going to do — some of the stuff that Yahoo is doing and Google is starting to copy with drop-down, type-ahead suggestions to related queries," she noted.
Older search utilities could also benefit. For example, Clusty, a clustering search engine from software maker Vivisimo that's been around for years, is one alternative to a traditional search engine.
"You have to have a way of describing very succinctly what you are looking for, and sometimes you just don't know how to do that. You know it when you see it. StumbleUpon is getting there, but is still not exactly what you need," she explained.
MrTaggy, an experimental site developed by the Palo Alto Research Center (PARC) uses metadata to help users find what they're searching for.
"MrTaggy has all kinds of information. The keyword search is a tool, but not one I want to use all the time," Feldman pointed out.
For example, when Feldman was preparing to give a speech on innovation, a keyword search for serendipity, innovation, industry, etc., did not yield the results she sought. However, when she put the term into MrTaggy, the application returned the phrase "Ah ha moment."
"That is what I should have been searching for, and there has been a lot written on it," Feldman said. "I wouldn't have found it. That's the kind of thing we need so we can explore things that are tangential. All of those are coming to market. Just today, Endeca released a new platform called "McKinley," which is different way of introducing people to what is going on in the world."
Netbase has created a technology that moves beyond traditional keyword search and instead uses advanced linguistics to read every sentence of documents and extract rich information and relationships. It then organizes that data into meaningful categories for researchers.
"Suppose you're a medical researcher and you want to find causes of a particular type of tumor. Netbase has indexed Medline and returned relevant results that would take days to find in 10 seconds, including drugs that have an effect [and] genes that are related to a particular condition," she said.
This next generation of search goes beyond simple words and looks at the relationships between various words and the ideas they represent. It will pull out information in a way that can help users shorten the time they spend looking for what they want to know.
"The semantic Web is nothing compared to what these guys are doing," Feldman said. "This is using text analytics. This is what the semantic Web ought to be and should be. It will be amazing."
An Online Convergence
The mobile Internet continues to be a major source of innovation, as existing and emerging companies seek new ways to bring an ever-expanding mass of content onto smartphones and other handheld devices. On the other end of the spectrum are the huge in-home systems like home entertainment centers, which are also being built with Web-facing features. The drive for building Web access into multiple devices will feed the ongoing demand for video content online.
"Individual access to the Web is probably the biggest change we've seen in the last 10 years. It will continue to push innovation because you need more content available for more devices, which means more opportunity for services in the cloud and greater importance placed on things like storage on a device," Joshua Martin, a Yankee Group analyst, told the E-Commerce Times.
As video content moves online and broadband moves into the living room, look for a migration away from traditional cable and satellite subscriptions.
"This is going to be earth-shattering, because the Internet is no longer restricted to the computer for the mass market. Now that the average Joe Consumer will be able to do that, it will really change the game," Martin noted.
However, an old hiccup remains for online video companies: how to monetize the business model. Even though owners have worked in advertising models to a certain degree, the rise of user-generated content on sites such as YouTube has generally not resulted in great amounts of revenue. Fans of these sites may soon find themselves paying a subscription fee to check out the latest antics of Joe Schmoe.
"It is probably harder now more than ever for companies to develop ways to monetize their content, particularly with the advent of user-generated content that is becoming increasingly compelling. With so many options for people, it will be interesting to see what happens," Martin said.
Sports is one entertainment genre that enjoys a great deal of attention. For example, online viewers may soon be able to view each hole of a major golf tournament, Martin said. Recently, college basketball buffs were able to watch NCAA playoff games online, and advertisers bought sponsorships.
However, tangles still remain. Professional football will likely be one of the last sports to come online, given the exclusive contract the National Football League signed with DirecTV for its NFL Sunday Ticket offering. Once that contract expires, the organization may head online.
In terms of movies and TV shows, Netflix continues to be a leader in online video content and is an example of the kind of innovation other companies should pursue, Martin said. The company has launched numerous partnerships with hardware makers that allow Netflix subscribers who own devices like Xboxes and TiVos to stream content directly to their TVs.
"This is more of an evolutionary phase," Martin noted, "where the convergence we've talked about that makes services and the consumer experience more valuable is coming to fruition."