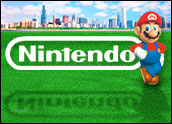 Nintendo made headlines in the gaming industry this week with the release of a new device, the highly anticipated Nintendo DSi portable gaming system.
The third iteration of the top-selling on-the-go video game machine, available in Japan since last year, features two built-in cameras and recorded sounds that users can alter. The device is priced at US$169.99 and is available in blue and black.
Everyone's at the App Store
Nintendo also rolled out the new Nintendo DSi Shop, an online store where DSi users can download games and applications using so-called DSi Points. Nintendo introduced five new games on the site: "WarioWare: Snapped," "Bird & Beans," "Brain Age Express: Math," "Master of Illusion Express: Funny Face," and "Art Style: Aquia."
Early reports from the UK indicate that the new device got off to a good start, selling 92,000 units in the first two days. There is still, however, a long way to go to reach the 100-million-unit milestone that the original DS recently hit.
"The DSi is at a higher price point, so that should limit its popularity. Also, we're in a recession — making a direct comparison difficult. Finally, it is likely to be supply-constrained, so results will be skewed for while," Michael Pachter, an analyst at Wedbush Morgan, told the E-Commerce Times.
The company could add video transferring functionality to both the Wii and the DS, Nintendo President Satoru Iwata recently remarked to The Wall Street Journal.
Such a service would have to be done in a uniquely Nintendo way, Iwata told the newspaper — with the number of on-demand video services already out there, there's little justification to launch another if it's going to be nearly identical to the others.
If it comes, it will likely hit Japan first and then go overseas, he suggested.
Dead Zone
Everything for Nintendo was not sunshine and roses, though. While it's certainly a hot seller, the Wii happens to be the least-used gaming platform, a statistic eerily similar to that of the last-generation GameCube console, according to a report by consumer tracking firm Nielsen. Wii owners averaged the fewest usage days and shortest daily average number of sessions. The Wii also had the lowest percentage of active users.
The Wii's rivals — Sony's Playstation 3 (PS3) and Microsoft's Xbox 360 — had the most-engaged users. On the flip side, however, the usage for both the PS3 and PlayStation 2 are trending down for the year, while the Wii and Xbox 360 usage minutes are trending upward.
In Other News
Financially strapped game developer and publisher THQ announced that its cost cutting measures — including a 24 percent reduction in its workforce, studio closures and spinoffs — have been successful.
The company has completed its plan and is on track to reduce its 2010 budget by $220 million, it said.