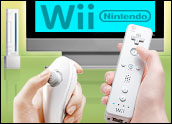 This week Nintendo unveiled its lineup of upcoming titles for the year. Sony CEO Howard Stringer did some executive shuffling in an apparent effort to re-energize the consumer electronics company. Also, Microsoft got some good news from Japan, scoring a hit with its latest exclusive title, "Star Ocean: The Last Hope."
There was some bad news for Gibson and THQ. The guitar maker's lawsuit charging Activision with copyright infringement was dismissed, while the game developer announced layoffs.
It's the Game, Stupid
While portable console gamers eagerly anticipate the April 5 release of the Nintendo DSi, the game and console maker tried to whet the appetite of Wii and Nintendo DS owners by rolling out its list of upcoming titles.
Spring will usher in a bevy of titles; the first games are set for release this week. Nintendo announced just three games from its development studios, including: "Excitebots: Trick Racing" on April 20; "Donkey Kong Jungle Beat" on May 4 and "Punch-Out" on May 18. Nintendo said it will release "Bit.Trip Beat" from Gaijin Games, "Eduardo the Samurai Toaster," "Night Game" and "Swords and Soliders" via its WiiWare download service.
Third-party developers are gearing up for releases for the Wii and DS as well. Leading the way are 2K Sports' "Major League Baseball 2K9," while offerings from Electronic Arts include "Trivial Pursuit" and "MySims Party" in March, "EA Sports" on May 19, "Tiger Woods PGA Tour 10" in June along with summer releases "MySims Racing," "Harry Potter and the Half-Blood Prince," "G.I. Joe: The Rise of Cobra" and "EA Sports Tennis."
Activision will launch its movie tie-in titles "X-Men Origins: Wolverine" in May, "Ice Age 3" on June 30 and "Transformers: Revenge of the Fallen" in June.
One surprise in the list is the apparent absence of a new title for Nintendo's popular Wii Fit accessory, something Rob Enderle, principal analyst at Enderle Group, found disappointing, he told the E-Commerce Times.
Although there are a lot of games coming out for the Wii and DS, Enderle said "most don't look particularly interesting." However, "Excitebots," "EA Sports Tennis" and "EA Sports Active" stand out as possible top sellers.
Michael Gartenberg, vice president of Strategy and Analysis at Interpret, has a more optimistic take.
"They look like some good titles. You know it's hard to say until you actually get your hands on the game. I'm cautiously optimistic that it looks like a good lineup that leverages the market [Nintendo] is going after," he told the E-Commerce Times.
Executive Shuffle, and Xbox 360 Surges
Sony's CEO Howard Stringer decided to take on the role of president, replacing Ryoji Chubachi who moves to the vice chairman post. The move was long overdue, according to Enderle and Gartenberg. Set to take on the new position on April 1, Stringer will preside over a company that has been reorganized into two new business groups.
Kazuo Hirai, Sony Computer Entertainment president, will take the reins of the Networked Products & Services Group, while Hiroshi Yoshioka will head the New Consumer Products Group, which includes Sony's television, digital imaging, home audio and video biz.
"[It's] a huge step in the right direction. The only issue was whether it was in time. He finally is getting the control he needs; however, he doesn't have much time to execute," Enderle said.
Meanwhile in Washington, perhaps slow and steady really does win the race. Microsoft may have released the game that can help get a foot in the door of the Japanese market. Consistently outsold in the Japan, the Xbox 360 has trailed both the Wii and the PlayStation 3 among consumers there. However, recent sales data reportedly has the console maker's exclusive title "Star Ocean: The Last Hope" topping the game sales charts at No. 1.
Developed by Square Enix, the role-playing game reportedly sold 162,000 copies in a week recently, making it the fastest selling Xbox 360 title ever in Japan.
"This could be what Microsoft has been waiting for, and if sales continue at this pace, [it] could be the cure the gamemaker needed to move consoles," Gartenberg said.
No Guitar Suit, and THQ on the Ropes
A California U.S. District Court judge has dismissed Gibson's lawsuit alleging that Activision, maker of the "Rock Band" game franchise, infringed on its patent.
"The patent was too broad and had a number of problems. It was very good for the industry that it went away; games like 'Guitar Hero' are really helping the industry out at the moment," according to Enderle.
Finally, THQ announced it would lay off nearly the entire staff of its Volition quality assurance team. The announcement follows earlier staff reductions of some 600 employees, roughly 24 percent of the company's workers. After announcing significant loses recently — US$191.8 million and a 30 percent decline in revenue — and a share price that has fallen from $20 to about $2, it's anybody's guess whether the game maker will weather the 2009 financial storm or wind up in the bankruptcy or acquired bins.