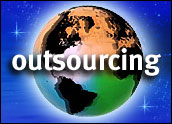 Layoffs are an unfortunate but predictable byproduct of an economy in decline. As the global economic crisis stretches into yet another month, companies in nearly all industries continue the painful process of purging employees in an effort to reduce costs.
After the automotive and manufacturing sectors, one of the hardest hit areas of the economy has been the IT sector. Companies large and small have sought to heal their hemorrhaging bottom lines by letting employees go.
For instance, in the first two months of 2009, IBM reportedly informed some 4,600 employees that their days at the company were numbered. Earlier this month, Big Blue announced another round of layoffs — this time giving another 5,000 workers the heads up that their jobs would soon be cut.
Quiet, Please! We're Outsourcing
Enterprises walk a tightrope as they strive to provide their customers with consistent levels of services and also continue research and development projects in preparation for an eventual economic upswing. For multinational corporations, it often means shifting jobs to lower-cost offices abroad, while other firms have turned to outsourcing both in the U.S. and in other countries.
If the news that IBM will let go of nearly 10,000 employees in the U.S. so far this year comes as a surprise, it's because the company has not actively publicized the layoffs the same way corporations sometimes do in order to appeal to investors.
IBM is not alone, it seems. The same scenario is playing out across the IT industry. It raises the question, why cut employees so quietly? What, if anything are these firms trying to avoid? Common sense would suggest that cutting employee costs would be greeted by investors as a positive step in trying economic times, proving executives are willing to do whatever is necessary to keep the company viable and agile enough to eventually emerge from the downturn.
However, outsourcing, at least in the U.S., has earned a particularly bad reputation. Could IBM and others be sacrificing transparency to avoid the hubbub and public outcry that could result from an announcement that much-needed jobs are being moved overseas? If so, are the outsourcers raking in the bucks in the process?
"Outsourcing clients have always been extremely, extremely reticent about revealing the fact that they are using outsourcing. It's a constant problem and a problem for the outsourcing vendors as well, who would like to be able to trumpet their success in contract signings. So often, their clients do want to keep things quiet," Patrick O'Brien, senior analyst at Outsourcing at Data Monitor, told the E-Commerce Times.
Why Outsource?
Companies turn to outsourcing for a number of reasons, Bill Martorelli, principal analyst at Forrester Research, told the E-Commerce Times.
"Sometimes they outsource as a reaction to economic pressure and the need to cut cost significantly. Sometimes they outsource in a different kind of environment in which the economies are strong. Sometimes they outsource for cost, but maybe for other reasons," he explained.
A company might be having trouble finding employees with the right skill sets, or they might want to use their internal resources for something more strategically beneficial. Outsourcing could be a reaction to the realization that certain departments are performing functions that in truth have proven to be less critical than originally thought and can be handled outside the company.
"It's a really complex picture," Martorelli noted.
Who's Outsourcing What and Where?
Nearly two-thirds of chief financial officers (CFOs) at leading technology businesses said they will outsource services or manufacturing in 2009, according to a recent survey from BDO Seidman, an accounting and consulting firm.
Conducted in January 2009, the survey also found that the number of CFOs considering using outsourcers oversees declined, with 22 percent most likely to look at U.S.-based outsourcers to solve their staffing problems. That's compared to 16 percent turning to China and 13 percent heading to India to meet their outsourcing needs. Another 19 percent said they were not considering and had no interest in outsourcing.
"While last year may have produced an outsourcing bubble, 2009 will see companies retrench to survive in the face of reduced demand. The United States has become a far more viable option for them," said Douglas Sirotta, a Partner in BDO Seidman's Technology Practice.
"This year we are seeing three global factors that are causing U.S. technology companies to pull back from traditional outsourcing locations, led by the recent boom and bust of the worldwide economy. Satyam's fraud case and the terrorist attacks in Mumbai are causing a lot of companies to reconsider operating in India. And supply chain and shipping cost issues in China are negatively impacting the attractiveness of outsourcing technology operations to the Far East."
India ranks as the country that receives the bulk of outsourcing contracts from abroad, with 50 percent, according to BDO Seidman. Other top locales include the Phillipines at 31 percent, down from 50 percent in 2008; China with 19 percent, down from 46 percent in 2008 and Western Europe with 19 percent.
At 54 percent, manufacturing ranks as the No. 1 function CFOs said were being offshored, with IT services and programming following at 46 percent. A little more than a third of the financial heads said that research and development, distribution and call centers were positions up for offshoring.
"The potential for an offshoring backlash becoming an issue once again will be something interesting to watch. For the most part, people have shied away from making major announcements about offshoring initiatives throughout — even during the Bush administration. People have been very guarded about that. I don't know that that has changed much," Martorelli said.
With the renewed anxiety about jobs and a new democratic administration in the White House, concerns have grown about recipients of TARP money and their use of employees with certain visas — H-1B. There is the possibility for backlash forming, he continued.
Still, "I don't see any evidence that [concerns about a public outcry about offshoring] is inhibiting companies," Martorelli added.