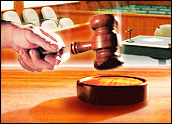 The Internet often has the effect of eliminating the middle man and enabling consumers to complete tasks directly. While these changes have occurred swiftly in some markets, they have been evolving more slowly in the legal profession. In fact, the process of finding legal advice is quite similar to how it was before the dotcom boom. A small but growing number of companies are trying to change that by making legal information and documents available over the Web so consumers can help themselves rather than hire a lawyer.
Lawyers are like dentists: Consumers visit them only when needed, and they try to make their stay as short as possible. "We have found that 74 percent of families do not have items, such as a will, even though they know that they need them," Brian Liu, chairman and cofounder of LegalZoom.com, told the E-Commerce Times. Cost is one reason they shun legal eagles — Lawyers typically charge US$150 on up per hour for their services, which can range from examining a home purchase and sales agreement to establishing a new corporation.
While some areas of the law — such as patent law — are extremely complex, others center on repetitive processes and are more easily navigable. The notion of offloading some of these tasks from lawyers to consumers has arisen, and a number of self-help sites now enable consumers to complete and process a wide range of forms.
Celebrities Endorse Self-Help Sites
LegalZoom is one of the better-know sites. Cofounded by noted attorney Robert Shapiro, it has been widely advertised and features a variety of celebrity endorsements. The company claims to have a wide-ranging team of legal experts, including retired judges and law school professors, to ensure that its information is accurate.
The site includes a wide range of information. An Education Center provides individuals with a "Cliff Notes" version of the reasons why one would need the sorts of documents it offers. A frequently asked questions section answers items from "Who can create a living will?" to "Are there any decisions my healthcare surrogate can't make for me?"
LegalZoom's business centers on helping consumers complete various common documents, such as wills, living trusts, living wills, restraining orders, divorces, prenuptial agreements, limited liability corporations, and the filing of trademarks and copyrights. The company has tiered services, starting with basic information and working its ways to more complex cases. Pricing for completing a living will, for example, goes from $39 to $79, while the cost of incorporating a company ranges from $139 to $369.
Other Legal Sources
Legal Help Mate is another site with a comprehensive set of documents: uncontested divorce, creating a power of attorney, advance medical directives for healthcare and living will, etc. The site includes a brief description of the document and then offers consumers the ability to download them for a fee — from about $10 to $25.
A help section is designed to assist individuals with understanding the forms and fill them out properly. They start with simple items, such as "Do I have to use the document?," and work their way to more complex issues such as "I have a living trust. Do I still need a durable power of attorney for finances?"
JDSupra.com has taken a different spin on this theme: It has built a free, virtual law library of real-world legal documents. On the site, lawyers post examples of their legal work, which consumers and businesses can download and use, free of charge.
A Beauty or a Beast?
The benefits of these different document services lie in the eyes of the beholders. The major benefit is that consumers cut their legal bills — usually by a significant margin. Also, they can complete the process more quickly than trying to find time on a busy lawyer's calendar.
There are some shortcomings. Many documents they offer address laws that are set at the state level, which can vary widely. As a result, there may be instances where the wording in a document does not mesh with local regulations. Also, the law constantly evolves, and there may be cases where documents become outdated.
Some legal professionals think online documents shortchange consumers. "At some point in the legal process, a consumer should consult with a lawyer," said Ryan Sabia, president of Interactive Technologies, which operates OnlineConsultation.com. "If you needed an operation, you would see a doctor, not perform it yourself," he told the E-Commerce Times.
Even the online document preparers themselves agree with that sentiment. "We recommend that consumers use lawyers, but not everyone feels comfortable doing that, so our service gives them another option," LegalZoom's Liu said.
Law and the Internet, Part 2: A Little Help From the Pros
Click here to be notified when the nextinstallment in this series is published.