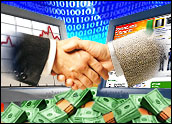 Sterling Commerce, anAT&T subsidiary, last week acquired e-commerce platform provider Comergent for US$155 million in cash — further evidence of the rapid development and consolidation taking place in the B2C and B2B market sectors.
Sterling Commerce and Comergent are best known for their state-of-the-art service-oriented architecture (SOA)-based systems. The merger offers AT&T an opportunity to cross-sell the end-to-end order fulfillment solution with its hosted service.
"Comergent and Sterling Commerce share a vision for seamless order management, which encompasses order capture and order fulfillment," Sterling Commerce VP of Global Product Marketing Joel Reed and Comergent CEO Jean Kovacs told the E-Commerce Times in e-mail correspondence.
The combination, they said, "will provide customers with a unified, end-to-end solution for capturing and fulfilling orders across their extended supply chain."
Given the companies' respective successes, the acquisition has taken some industry observers by surprise. "Many suitors have come after Comergent, and they have not had to accept," said Forrester Research Principal Analyst Ray Wang. "Something special must have been provided to the management team in terms of investment, payback or opportunity. We'll wait and see who remains with the merged entity over the next 24 months, and that will be telling."
Putting It Together
Both companies share the same strategic vision, which has played a central role in the agreement. "The companies believe that managing the increasingly complex order fulfillment process only solves half the problem," according to Reed and Kovacs.
"The other part of the problem is in how companies present a single face to the customer by offering the right combination of products and services that the customer wants, and presenting accurate pricing and configuration information," they noted.
"This acquisition is an answer to this combined problem that will enable customers across a wide range of markets to increase revenue, shorten sales and order-fulfillment cycle times, while reducing overall supply-chain costs.
"The Sterling Commerce Supply Chain Suite — composed of Multi-Channel Order Management, Store Operations, Warehouse Management, Transportation Management and Supply Chain Visibility — manages complex order fulfillment through the supply chain after the order is captured.
"Comergent extends the breadth of the Sterling Commerce Supply Chain Suite with deep functionality in automating the order capture process, such as multi-vendor catalog management, configuration, pricing, quoting, proposals and order management," they explained.
Minimal Integration Worries
Both companies have built complementary SOA-based systems, which is another important factor in their agreement that should ease system and staff integration efforts going forward, said Reed and Kovacs.
"Upon completion of the Hart-Scott-Rodino process, the underlying SOA technology will enable the rapid assimilation of the Comergent solutions into the Sterling Commerce family of solutions, and allow our customers to incrementally adopt new capabilities as the needs of their own customers and the market evolve," they said. "This will provide customers with a comprehensive solution that carries a lower total cost of ownership and is highly adaptable in order to meet clients' current and future needs."
There should be minimal integration issues from a technical perspective, given that both companies built modern SOA architectures and Web services from scratch, said Forrester's Wang. "There is very little overlap in functionality," he added.
"The challenge will be which application foundation pieces — like order-brokering engines, configurators and catalogs — remain, and what that convergence strategy will look like. This is difficult to determine until 90 to 120 days post merger," Wang claimed.
Regarding the future look of the merged organization in terms of staffing, Reed and Kovacs said, "While we cannot comment on specific plans in advance of the transaction's completion, we can say that Sterling Commerce views Comergent's employees and their expertise as important assets."
Sterling and Comergent Fact Sheet
Sterling Commerce posted revenue of more than $490 million in 2005. It has 30,000 customers worldwide and provides enterprise level e-commerce related technology solutions to companies in the retail, consumer packaged goods, manufacturing, financial services, healthcare and telecommunications industries.
Originally known as "SBC Communications," AT&T acquired Sterling Commerce in 2000. The acquisition "resulted in management changes and a complete rethinking of the company's role in the B2B world of the future," Wang wrote in an April 2006 Forrester WAVE research report. "The new management team has instilled new life into the organization, rolling out new products and services that will serve this vendor well going forward."
Created in 1998, Comergent develops modular and integrated enterprise-scale e-commerce sales, order management and fulfillment capabilities for large corporations.
Its initial success was in the high-tech market — Cisco Systems was its first customer. The company has gone on to develop and provide single- and shared-instance platform services for companies in the aerospace, life sciences, automotive and retail sectors.
Comergent's over 150 clients include Applied Biosystems, Best Buy, DirecTV, Gates Corp., InterContinental Hotels Group, J. C. Penney, NEC Solutions America, Pearson Education, Pitney Bowes, Symbol, The Toro Co. and World Wide Technology.
In total, Comergent provides its eBusiness Application Suite on a hosted and on-site basis to its client base, employs 120 people, and has an estimated total revenue in the $40 million to $50 million range, according to the April Forrester WAVE report.
In recent years, Comergent's overall revenues have grown at a rate of greater than 50 percent. Its Hosting & Managed Services segment is growing even faster — at 89 percent in fiscal 2005 and 140 percent in fiscal 2006, according to the company.
Merger Mania in B2B Space
The acquisition and merger offers a transformed, rejuvenated AT&T "with opportunities to cross-sell the end-to-end order fulfillment solution with its hosted service," according to a statement by the companies.
The deal also adds to the current wave of consolidation sweeping the B2C and B2B market sectors.
For example, diversified manufacturer Illinois Tool Works in early September acquired Click Commerce, a leading provider of supply chain management solutions, through a tender offer that valued the latter at $292 million. Click posted 2005 revenues of $59 million.
Click itself had built up its business through acquisitions. In recent years, it put together a portfolio of supply chain management technology that included acquisitions of Elance, Optum and Xelus.
In April 2006, Liberty Media, owner of cable and online retailer QVC, acquired Provide Commerce for $477 million in cash.
Provide's expertise in supply chain management and order execution built online businesses that specialized in the sale of perishable goods via brand name e-commerce Web sites such as Proflowers.com, CherryMoonFarms.com, UptownPrime.com and SecretSpoon.com.
"At the end of the day, customers want order hubs that address order capture, order fulfillment, order completion and cash," said Wang, noting that there are very few independent software vendors remaining in the partner relationship management/customer relationship management e-commerce space.