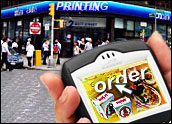 Location-based mobile and Web services are increasingly delivering value and gaining adherents as service providers devote greater time and resources to developing them further.
For example, Sprint's Xohm wireless broadband unit is working with a group of leading mobile Web application development companies to develop a set of personalized "geobrowsing" services that will make their debut along with the introduction of their metro WiMax networks later this year.
Sprint's not the only carrier looking to blaze a trail in mobile and Web location-based services, however. Alltel, AT&T, Verizon, T-Mobile, Virgin Mobile and others are all investing in application development and increasingly looking to leverage partnerships with leading application service developers in doing so.
It's All Right There
Boston-based uLocate Communications is the lead partner of a group of independent application developers working with Sprint to assemble an initial set of "geobrowsing" and widget-driven WiMax Web services custom tailored to meet the needs of subscribers using just about any type of mobile device.
Based on uLocate's "Where" platform, Xohm's initial set of location-based Web and mobile information services will include unique versions of uLocate's Buddy Beacon friend-finding application, San Diego-based Eventful's local events listing service and a variety of other location-based information services specifically designed for Sprint's WiMax network.
Sprint's plans to launch the nation's first metro WiMax broadband wireless network in Baltimore next month are moving ahead on schedule. Tentative plans are to follow that up with roll-outs in Washington D.C. and Chicago later this year and then "turn that sort of into a hockey stick, if you will, and ramp up pretty quickly afterwards, especially if we connect with the Clearwire partnership," Rick Robinson, Xohm's vice president of services, told the E-Commerce Times.
"What makes the Sprint announcement interesting is that the medium with Xohm changes," Dan Gilmartin, uLocate's vice president of marketing, told the E-Commerce Times. "While it is a wireless 4G technology, the first implementations of the service will be attached to laptops, via data cards. What we have done is built a consumer destination Web site that will deliver implicitly location-centric content. The maps that we deliver and content available will all be displayed based on the end-user's location. So the experience will geo-enable the laptop, versus the mobile phone."
Putting Themselves on the Map
Sprint isn't the only major carrier looking to location-based services to add value to existing services and drive revenue growth. uLocate, along with other leading Web and mobile location-based services developers, have been the beneficiaries.
"We have deployed our Where product on AT&T, Alltel, Metro PCS, Boost, Helio/Virgin, Sprint," uLocate's Gilmartin recounted. "We are also available on BlackBerry, iPhone and Nokia devices directly. Our Buddy Beacon mobile social networking/friend finding service is available on most of these installations as well."
AT&T has deployed assisted GPS technology on its wireless network and plans to launch two new navigation applications — MapQuest Navigator and AAA Mobile Navigator — in coming weeks. By querying nearby cell sites, A-GPS significantly reduces the time required for GPS to initially establish the user's location.
Implementing A-GPS also "primes the network for further expansion this year in the LBS category, including planned launches of a location-enabled social networking service and a family-oriented service along with industry-leading privacy controls," according to AT&T.
Additionally, AT&T customers will be able to use their GPS-enabled handsets to help them find location-based information covering a variety of daily needs and wants, from finding the cheapest gas and buying tickets to local concerts to finding the best sushi restaurant in town by tapping into uLocate's growing library of location-based services.
"We know our customers want choice and the ability to personalize when it comes to location-based services, and Where hits the mark," said Mark Collins, AT&T's vice president of consumer products. "It's a great addition to our portfolio in this category, and as uLocate continues to add new location-based applications to Where, our customers will have access to an even broader menu."
Adding Value and Making It Entertaining
Verizon Wireless customers can find and keep track of what their friends are up to by tapping into Loopt's interoperable location-based service. Loopt enables friends who opt in to be located by other friends and find out what they are doing via detailed, interactive maps on their mobile phones.
Users can "navigate" their social lives by orienting them to people, places and events, according to Verizon. They can also choose to permit sharing of location updates, geo-tagged photos and comments in their mobile address book or on online social networks, communities and blogs.
GPS-enabled mobile phones have been around for a while now, so what's taken location-based services so long to catch on?
"I think that the issue is that location-based services have been in the 'over-promise' and 'under-deliver' realm since 2003," Gilmartin commented.
"I believe that we are shifting that model. LBS historically has been all about the technology, not the value proposition to the end user. I think that if you look at the North American market, you will see strong evidence from carrier marketing that LBS — [navigation] in particular — is hitting a chord. The top three are all using nav in their campaigns. I think beyond that, consumers are not sure what to make of LBS."
Geo-Browsing: A New Kind of Mobile Experience
The combination of local, location-based mobile Web services and a WiMax-based broadband wireless network opens up new and uncharted realms for portable applications and devices. It also poses unique and difficult challenges.
"We'll be serving up content through widgets — it's an easier way to serve content and have an aggregation of content in a small space. In addition, many of these partners are going to have their content displayed within a mapping, that is a geo-browsing, environment," Sprint's Robinson elaborated.
"Yelp, for instance, will provide guides and reviews of local restaurants and entertainment, and then say you want to be able to see your friends on the map as well. That type of information can be gathered from uLocate's Buddy Beacon and overlaid automatically by triangulating between you, your friends and your interests."
"We've all taken a pretty innovative approach to delivering this type of content. A lot of the things we search for on a local basis to a certain extent are more valuable when seen on a map, particularly when presented with respect to where we are," uLocate's Gilmartin added. "It's better than just presenting a list where you're not sure of where you really are in relation to your search recommendations."
A Variety of Devices
Sprint-Xohm intends to further leverage the community of independent mobile application software developers as its metro WiMax roll out progresses. "We are developing APIs (application programming interfaces) for third parties and will have a robust third-party developer program," Robinson said.
"We're looking to have a whole bunch of very curious and sharp developers contributing to the process. Most of our partners have services up on the Web or cell phone devices. We're doing mashups, taking their content and services and overlaying them on Google Maps and then integrating them into new services, building what I call 'new context,'" he explained.
Besides providing mobile and stationary access via laptops, smartphones and PDAs, Sprint's geo-location based Web services span a variety of new and novel portable devices.
"We're going out with Nokia's tablet computer, a 5 1/4-inch screen with WiMax Internet access and other services on the device itself — we'll start that right along with our launch," Robinson explained, "and coming along behind that are going to be all kinds of what are called 'MIDs' — small handheld tablet-type computing devices.
"The idea is to develop an ecosystem around it, and we're encouraging OEMs (original equipment manufacturers) to do that. Numerous devices will find their way on to shelves. It's different than a telco model, which is somewhat restricted with a credit check in the store. You can buy the device in a store or online, switch it on, sign up and activate online and pay a fee — we'll start out with monthly and daily trial accounts."
"From my perspective, consumers are finding value," uLocate's Gilmartin added. "In the short few months that we launched on iPhone, we have already served up 2 million searches for the nearest and cheapest gas station. Even though there seems to be a Starbucks on every corner, we have served up 1.7 million Starbucks searches. Further, we have used the technology to simplify the accessibility of content, such that the consumer should not think that this is a location-based service; rather, it's a service that delivers the info that they need whenever they want wherever they are."