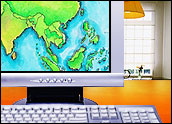 Intel and Grameen Trust are joining forces in an effort to bridge the financial and digital divides separating many of the world's most wanting from basic services and economic opportunities.
Joined via video link by Grameen Trust founder and 2006 Nobel Peace Prize winner Muhammad Yunus, Intel Chairman Craig Barrett announced that Intel Capital and Grameen Trust are forming a joint venture that aims to bring information and communications technology (ICT) and microcredit facilities to poor communities throughout the developing world.
"It turns out that information technology can follow on the work that Dr. Yunus did in Bangladesh. And in fact if you look, whether you're in Bangladesh or Bolivia or the remote areas of China or India, or even Malaysia, bringing technology in and allowing local rural residents to compete on an equal basis with those in urban areas is very, very important. If you've seen Dr. Yunus's book, Creating a World Without Poverty, he talks about this social concept," Barrett said.
Technology Providing Opportunities
Using the social business model created and employed by Yunus in building Grameen Bank, the Intel-Grameen partnership aims to draw on Intel's expertise developing innovative information technology, as well as its financial resources, with that of Grameen in microfinance and community-economic development.
Grameen's microcredit and community development programs have reached some 7 1/2 million people in 73,000 villages throughout Bangladesh. The partners foresee a number of ICT-based services and entrepreneurship opportunities growing out of their nascent social business venture, according to Intel.
"Examples include remote villagers receiving medical attention through Internet connectivity, rural communities being able to order medicine locally instead of having to walk 10 miles to a hospital, and families being notified of monies received from relatives abroad," the company said.
"Both Intel and Grameen will invest funds and expertise into this joint venture. Intel will be investing through its venture capital group — Intel Capital. Intel will also contribute with its technology expertise, and Grameen will bring in its extensive experience in creating economic development and income-generation opportunities at the village level to the joint venture," Kazi Huque, the joint venture's managing director, told the E-Commerce Times.
"The goal is to set up a nimble organization that can understand the social requirements and effectively deploy solutions locally. We will not be able to provide the exact amount of funding both parties invested into the joint venture."
Win-Win Proposition
The idea for the joint venture was conceived last September when Barrett met with Yunus in Bangladesh, Huque recounted. "At different times, we had talked internally within Intel on the use of microfinancing to make technology more affordable in the emerging countries. Separate from that discussion, Craig Barrett was in Bangladesh to launch the Intel World Ahead Program.
"During a meeting Dr. Yunus and Craig started a discussion on the concept of social business and how that could potentially apply for IT solutions targeted at the poor segment of the population. After a series of follow-[up] management meetings between Grameen and Intel, we agreed to form a venture where we would bring the expertise of both the companies for a common cause."
Coming together in common cause is a win-win situation for Intel, Grameen and the communities in developing countries it plans to work in. "Grameen's vision is to alleviate poverty. According to Dr. Yunus, this joint venture will create opportunities for poor people to rise above social and economic barriers. Technology-based services will provide the 'hand up' that people need to discover their full potential."
The joint venture aligns with the goals of Intel's World Ahead program, Huque noted, to use technology to improve education and healthcare and spur economic development.
"It's a unique opportunity to be the first technology company in the world to test the variability of the social business model, injecting the discipline of capitalism and do good. Ultimately, this is about helping connect the next billion people, which is a key part of Intel's growth strategy," Huque said.
Testing the Social Business Model
The joint venture will be set up as a separate entity with the aim of implementing ICT solutions that address very specific social problems, Huque explained.
"The goal is to use ICT to provide specific services that target the poor population segment and would provide social benefits. We also believe that to sustain such solution, there needs to be a local entrepreneur earning a livelihood from such services and therefore has a vested interest. Project selection would therefore need to meet such guidelines, but at the end of the day, it's the technology, financials, individual incentives and social benefit that must align," Huque continued.
As altruistic as the venture's aims are, the intricacies and challenges associated with carrying out ambitious social and economic development projects have proven substantial, and have created backlash against organizations.
"We need to start small and be tactical in some of the focus areas we have identified. Different people have different criteria of success, but we consider we have reached our first success when we create our first entrepreneur who can provide an ICT related service for the benefit of his or her fellow villagers," Huque commented.