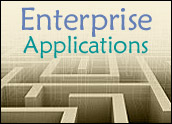 Choosing an e-commerce software system from among the wide variety of vendor offerings available in today's marketplace can be tricky.
Once you've settled on a particular application, application package or enterprise system, choosing the form and function that best suits your business needs and organizational structure — not to mention ensuring that you are getting good value for your money — can be equally difficult. It all boils down to selecting the right type of license.
There is a broad range of available licensing options and pricing models, which makes the process of evaluating them daunting, especially given the complexity of many organizations, a continuously shifting operating environment, and a rapidly evolving technological landscape.
Enterprise users expressed a general dissatisfaction with vendor offerings in a Forrester Research customer survey of e-commerce licensing released early this year. Rigid licensing policies, overly complex metrics and high maintenance costs were cited as the chief culprits. Yet, even before the survey was published, vendors already were busy designing new licensing models and devising metrics to address those issues and better meet customers needs.
New, open-ended and usage-based licenses tied to business processes or metrics are beginning to replace named-user models at the enterprise level. More flexible Software as a Service (SaaS) and Managed Service Provider (MSP) license options are gaining traction with targeted, smaller scale business applications.
The advent of virtualization technologies that enable organizations to run multiple operating systems on one machine without incurring significant emulation costs will spur further adoption, according to R. Ray Wang, the Forrester research report's lead author.
Building in Flexibility
E-commerce software systems vendors and their customers are staking out new ground with the adoption of new models for pricing licenses, observed Wang.
"The major vendors are in a process of simplification," he said. "We see SAP moving in a direction to align and simplify pricing by industries and at the same time create additional flexibility in user pricing to accommodate the most casual of users. Other vendors are developing pricing plans that will be in alignment with their next-generation applications."
At the enterprise level, there is an emerging trend away from using traditional named-user models and toward open-ended "all you can drink" and usage-based "pay as you go" models, an analysis of the Forrester survey data suggests.
"I can price by number of orders, processor speed or revenue generated," noted Wang. "That's what we consider usage-based pricing versus user-based pricing. Another option is to price by instance, which does not take into account number of users, but takes a site license approach where you pay for the box and base the cost on other metrics like revenue."
Driving Values
The license structuring and pricing methodology in use by Ohio-based Sterling Commerce is a case in point. When it comes to licensing options and pricing, Sterling's objective and modus operandi is to offer customers flexibility that reflects the "value drivers" of its customers. "As our customers' business models differ, we will also adapt [our pricing methodologies] to meet these needs," explained Chris Johnson, VP, Global Product Line.
In order to do so, Sterling links the provision and pricing of its e-commerce products, services and associated licenses to business process parameters — such as number of trading partners — that best correlate and scale with the value a customer receives.
"For example, for our B2B (business to business) collaboration suite customers, the parameters are CPU usage and number of trading partners," Johnson added.
All You Can Drink
Redwood Shores, Calif.-based Comergent is another e-commerce sales and order management software vendor that emphasizes flexibility and aims to reflect customers' underlying value drivers and business processes in its delivery, service and license pricing alternatives.
Comergent's eBusiness System Applications, licensed independently per production instance or business unit, are cited in the Forrester report as an example of an "all-you-can-drink" model. A production instance or business unit is defined as one "instance" of the Comergent software that is used to perform in a production environment with a production database.
Comergent gives customers three purchase options: enterprise licenses, term licenses or subscriptions. It also offers three ways to implement and maintain the applications: on-site, at a third-party site, or hosted by Comergent, explained Carolyn Layne, VP Marketing.
In order to arrive at the "best" price for a customer, Comergent determines the value of the offering selected from the suite of products matched against a customer's needs. It then works with the customer to select the best options for the license and deployment — e.g., hosted or in-house.
The company seeks to build into its licenses and hosting sufficient flexibility to allow customers to switch from one license or hosting model to another, based on future needs and conditions, Layne added.
Named-User Models Still Viable
While change may be one of the few constants in the e-commerce software marketplace, the widespread use of named-user models is expected to continue for the foreseeable future, given the availability of generally accepted metrics and the ability to link these to operational performance.
Vendors appear to be taking something of a model-neutral approach to the issue, looking instead to custom tailor offerings to suit customers' perceived needs.
SAP, for example, "licenses software according to the value it brings to customers," said Bill Wohl, vice-president and head of SAP's PTG Global Communications.
"When SAP solutions make people more efficient, customers license via named, user-based pricing," he maintained.
On the other hand, "when SAP solutions make processes more efficient — regardless of the number or impact on users — SAP employs business metric-based pricing [a pricing engine]," he said.