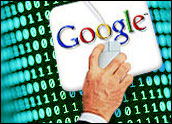 What seems to have started as a simple play to create new cartoon content for the Web — and make money from it — may in effect usher in a new media distribution model. A Web search engine giant, a highly paid cartoon creator, and a production company are all working together to deliver 50 two-minute episodes of edgy cartoons that will launch in September, according to a New York Times report.
Seth MacFarlane, the creator of TV's "Family Guy," will work with Google and use AdSense to syndicate a new project called "Seth MacFarlane's Cavalcade of Cartoon Comedy," according to the Times. Instead of placing traditional ads on Web sites, AdSense will place one of MacFarlane's new cartoon videos.
Media Rights Capital (MRC) will sell advertising associated with the syndicated clips so that whenever a clip gets clicked, the advertiser pays and MacFarlane, Media Right Capital, Google and the Web site that served it up all get paid. Advertisers will get their messages in through preroll videos that play before the content or through less obtrusive links, banners or sponsorships. MacFarlane is reportedly also working to produce some clips for advertisers.
First announced in August of last year, MRC is financing what it says will be multimillion-dollar content, and while MRC hasn't disclosed the financial terms of the deal, it appears to be breaking new ground in the high-dollar investment of original Internet-based video content.
The Next Broadcast Network?
Because the Web is fragmented into many viewing destinations, what's the largest common denominator? It very well may be Google AdSense.
Instead of using a show-branded Web site to deliver videos — or even a catch-all video site like YouTube — Google's AdSense advertising network will become the delivery model for the content itself. MacFarlane's animated cartoons may be the catalyst that turns an advertising-driven network into a content delivery network — in effect, Google AdSense might become a publisher of original media similar to ABC, NBC, CBS or FOX.
To be fair, it's hard to imagine tuning in each week from the family couch to watch Cavalcade clips on an Internet-connected TV, but if the quality of original Internet content rises, it's not hard to imagine that MacFarlane — whose "Family Guy" television series has risen from the ashes of cancellation not once, but twice — may be the guy to get it going. Just last month, he inked a US$100 million deal with Fox to keep "Family Guy" and "American Dad" episodes coming through 2012.
Finding the Key for Creators
"I think for creators, what's been lacking is a reliable way to monetize their content," Mike McGuire, a vice president of media research for Gartner, told the E-Commerce Times. He said the distribution and payment model might enable the creation of a whole new set of content streams.
"For MacFarlane, who's probably got a lot of people working for him, animators and such, this is a chance to throw even more stuff into the mix — but in a more controlled setting," McGuire added. "This gets very interesting … it may be a new palette for creators."