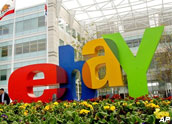 The world's largest online auction house, eBay, has announced plans to let third-party developers integrate applications directly onto eBay by giving their applications more direct access to the site's 700,000 professional sellers. The company revealed the details at its seventh annual eBay Developers Conference Monday in Chicago to approximately 700 attendees.
eBay boasts a community of 70,000 developers, and the company already has a developer program that lets third parties build apps that make listing and managing items for sale more efficient, particularly for power sellers. This new venture gives developers more direct access to the site's Selling Manager online tool.
"Third party developers want our help with marketing and distribution, and sellers consistently seek better tools to help them scale," noted Max Mancini, senior director of platform and disruptive innovation at eBay.
"Opening eBay.com directly to third-party applications through the Selling Manager gives developers an immediate channel to growth-minded eBay sellers," he added.
External applications built using eBay Web Services already account for more than 28 percent of all eBay.com listings, the company reports, noting that it believes the new program will bring tighter and more lucrative integration between eBay and third-party developers.
Easy Access
The program is only in its nascent stages of development; however, eBay says its pro sellers that already use advanced selling features in Selling Manager will be able to find and subscribe to third-party tools the same way they do now for eBay-developed tools. Interested subscribers will get a free, 30-day evaluation period to trial applications.
While eBay is opening up access, the company still has a gatekeeper. eBay says that interested developers will be required to meet site standards for trusted buying and selling experiences.
Selling Manager Only?
"Initially, we are opening it just for Selling Manager because it's the best opportunity for developers to monetize their operation — it's the single largest opportunity on eBay.com," Usher Lieberman, an eBay spokesperson, told the E-Commerce Times.
"Where will this take us over time? Absolutely we'll be looking at other ways of opening the site, but initially we want to focus on working with developers to get it right — and Selling Manager is the best way for us to do that," he added.
eBay says its program, which is called "Project Echo," is currently in an alpha pilot and will be open for wider developer participation and eBay seller adoption in the beta release — which won't hit until the first quarter of 2009.
Project Echo also gives developers a chance to tap into eBay's internal features like never before, noted Jerad Schempp, chief operating officer of Hosted Support, which provides eBay-focused solutions.
"We also get access to previously unavailable eBay data that will allow us to add functionality requested by our ezSupport customers. It represents a new frontier for us to drive customer adoption of our application," he said.