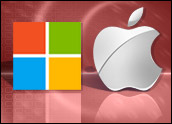 During Apple's WWDC keynote event last week, it became exceedinglyclear that we won't be seeing a converged iPad/MacBook device anytimesoon.
Unlike Microsoft, with its Surface Pro 3 effort, Apple doesn't seem atall interested in forcing iOS and OS X into asingle unified operating system. In fact, Apple doesn't seem to beinterested in making OS X touch-based or touch-enabled. Nor doesit appear to be working too hard to turn the iPad into a multitasking,laptop-replacing workhorse that resembles anything like the MicrosoftSurface Pro 3.
The two companies have two very different marketing jobs ontheir hands, one of which seems to be working and the other of whichseems to be fading — despite it's being about a product that by all rights andmeasures seems to be what people say they actually want.
That, it turns out, might be the key difference in the success ofthe two companies. Microsoft seems to be reacting to this grand ideathat people want a converged tablet and laptop that offers the best ofboth worlds — that can do everything. Instead of buying alaptop and a tablet and trying to coordinate the use of two differentdevices, why not have just one?
Why not pound the keys and work the mouse all day long withspreadsheets and email — and then just rip off the keyboard, sitdown in a quiet place, and relax to Game of Thrones on your tabletscreen? Work. Entertainment. Super portable, super versatile. What'snot to love?
Crazy Irony
There's nothing inherently wrong with the Surface Pro 3 or evenwith Microsoft Windows 8. The hardware is good, and Microsoft'sconverged take on a touch-enabled OS isn't all bad, either. (And incase you don't know me, I'm an unabashed Apple fan.)
Check out the marketingpages created by Microsoft to introduce and share the Surfacevision. Microsoft is covering the bases of getting more done, findingentertainment, and using the Surface Pro 3 for creativity. It's allreasonably personable, directed at "you," trying to find a way to fitthe Surface into your life.
Yet, somehow Microsoft is saying all the right words, atsupposedly the exact right time, and I'm just not hearing them. I wantto listen, I want to be moved — and heck, I even used to think that Imyself wanted a converged device: that I wanted a touchscreen Macthat could bend into a tablet or an iPad that could snap into akeyboard.
But now I'm not sure if one device to cover converged computing ispsychologically possible to successfully market and sell at all.
Balking at Convergence
For people who work from home, one of the hardest challenges iswalking away from work and returning to your own life — to yourown family, to your own hobbies. If your office is always in yourhome, it's all too easy to go back to work after hours and get alittle more done. It's always in front of you, always calling yourname, always demanding attention.
If your work device is also your play device, there is a psychologicalbarrier that can mess with a person's mind. Work is nagging at play,play is nagging at work, and what is the sign, the signal, thesignifier that tells you to switch your brain to spreadsheets, salesstrategies and supply chain challenges?
Some people get dressed up for special meetings, wear certain shoesfor certain work days. Is it fashion? Not always. Sometimes it's aboutframing your state of mind to accomplish a certain task. The same goesfor play time. You leave the office, change your clothes, and put on aball cap.
These sorts of things affect lots of humans, and sometimes they areaware of them and sometimes not. I think the Surface Pro is boilingright in the middle of this psychological stew. If I were a smarterhuman, I could sort it out for you. Instead all I can do is stir itaround a bit.
Apple, on the other hand, has managed to avoid these elements ofpsychological confusion. Maybe because Apple is smarter — or maybebecause Apple doesn't listen to its customers. Instead, Apple buildsthe products it wants to make — and then markets the heck out of theproduct as if it were an extension of a consumer. As Steve Jobsfamously said, "People don't know what they want until you show it tothem."
Somehow, either by accident or design, Apple's seemingly slow plodtoward convergence has resulted in discreet products — phone, tablet,computer — that instead of becoming one are becoming moreconnected. Damn, this somehow makes immediate sense to me.
I can instantly see how I can use apps and features like Handoff tostart working on one device and seamlessly transfer working to anotherdevice. I can start an email on my iPhone… and instead of gettingmad at the little touchscreen keys, just pick up from where I leftoff on my Mac.
I can create a presentation on my Mac and let iCloudlet me update it from my iPad right before I present it at work. A kidcan start a homework assignment at home on a Mac and finish it up atschool in a Web browser. I can leave my iPhone on a charger upstairs(or in my bag) and answer an iPhone call on my Mac.
Notifications, Notes, Reminders and my Calendar start reacting insimilar — but not the same — ways on my iPad, iPhone and Mac, and Iunderstand what each device brings.
The physical nature of the device and operating system provide myoverworked brain clues as to what experience I'll get — and whatexperience I want in a given moment.
In some ways, the Microsoft Surface Pro 3 is a spork. It's a spoon anda fork. While a good spork has its place, there's a reason oursilverware drawers aren't filled with practical sporks. If I'm eatingsoup, I want a spoon. Can it be as simple as that?
Flying in the Face of Reason
Computers are not sporks. They cost a lot of money. Therefore,how can this idea make sense? For Apple, this doesn't make intuitivesense: Why force your customers to buy both a high-priced iPad and a MacBook Pro in order to get both tablet and powerful computing abilities? They won't do it! Except, they are.
Ironically, the buying process for humans is easier tospark when the product is clear: I'm buying a tablet. Furthermore, Ican buy an iPad this year and a MacBook next year, and suddenly I canspread out my purchase activity and get more things thatfunction well within their device identities.
Microsoft, it turns out, might be better served simply by marketingthe Surface Pro 3 as a tablet called the "Surface." It's smartphones?SurfacePhone. And laptops? SurfacePC. But Microsoft has the Windowsbranding problem and the third-party business partner problem:Partners want to build their own Windows-based devices. Rock and hardspace.
Sadly, I've got to wonder if my Apple goggles have me seeing anApple-made Surface Pro 3 differently. I'm not sure. At first glance,after work, I would like to be able to rip the screen off my MacBookPro and go sit on the couch and tap, flick, zoom and edit somephotos or make some home movies.
Wait, I can do that. I can leave my MacBook Pro on my desk — workat work — and pick up my iPad. Come this fall, all my photos will bestored on iCloud, letting me seamlessly move from device to device andinteract with my life. It's Apple's "continuity" message, and italready feels better than trying to use one device for everything.Crazy, I know.