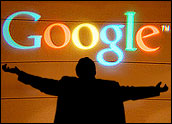 Google said the United States has a very real opportunity to transform its economy from one running on fossil fuels to one largely based on clean energy — and to make it happen, Google is pitching a $4.4 trillion proposal that outlines how it can be done by 2030.
By spending US$4.4 trillion on building clean energy production and infrastructure, Google also forecasts a net savings of $1 trillion over the 22-year life of the plan.
Admittedly, the numbers sound good on paper, but they might not hold up over the course of two decades.
Google Chief Executive Eric Schmidt introduced the energy plan in a speech at the Commonwealth Club in San Francisco Wednesday, and Google has since published more detailed information online.
"We can build whole new industries and create millions of new jobs. We can reduce energy costs, both at the gas pump and at home. We can improve our national security. And we can put a big dent in climate change. With strong leadership we could be moving forward on an aggressive but realistic timeline and an approach that balances costs with real economic gains," noted Dan Reicher, Google.org's director of climate change and energy initiatives.
Google is clearly hoping that the topic of clean and renewable energy will gain prominence at a national level, particularly as the U.S. ramps up for a presidential election.
"With a new administration and Congress — and multiple energy-related imperatives — this is an opportune, perhaps unprecedented, moment to move from plan to action," Reicher noted.
Lofty Goals?
Google's proposal is designed to reduce energy consumption and shift its use to clean, renewable energy sources. Based on data from the Energy Information Administration's (EIA) current baseline for energy use, Google believes the U.S. can reduce:
Fossil fuel-based electricity generation by 88 percent
Vehicle oil consumption by 38 percent
Dependence on imported oil (currently 10 million barrels per day) by 33 percent
Electricity-sector CO2 emissions by 95 percent
Personal vehicle sector CO2 emissions by 38 percent
U.S. CO2 emissions overall by 48 percent (40 percent from today's CO2 emission level)
To meet these reductions, the U.S. must deploy aggressive end-use electrical energy efficiency measures to reduce demand even though energy demand is projected to rise. For example, Google notes, plug-in vehicles will increase electricity demand by 8 percent.
Google recommends that the country start with the "low-hanging fruit" by reducing energy demand through energy efficiency. The company says it's seen a payback on $5 million spent on building energy efficiencies in 2.5 years. Google believes its own data centers are the most energy efficient in the world.
Google also believes the whole U.S. needs to adopt stricter, more energy efficient building codes similar to those in California. While that very idea might rankle those in the Midwest, California's energy use per capita has been flat for years, while use per capita use across the nation has been rising.
"Google's data centers draw from a U.S. electricity grid that relies on coal for 50 percent of its power. We want to help catalyze the development of renewable energy that is price-competitive with coal," Reicher noted.
"At least three technologies show tremendous promise: wind, solar thermal, and advanced geothermal. Each of these is abundant and, when combined, could supply energy in virtually every region of the U.S.," he added.
Drop in the Bucket
While Google has invested more than $45 million in startup companies that focus on wind, solar, and geothermal energy production, the company is calling for a flood of new investment.
Google's analysis was led by Jeffery Greenblatt, who published Google's proposal and call to action as an article on Google's Knol Web site. He suggests a path for the U.S. to wean itself off of coal and oil for electricity generation by 2030 — with some remaining use of natural gas and nuclear energy sources.
The year 2030 seems like a long way off, but when about half of the U.S. electricity grid relies on coal — as it does today — is that goal even possible?
"The short answer to that is 'No.' It would be a physical impossibility — unless we decided to dramatically alter our way of life," Clay Perry, a spokesperson for the Electric Power Research Institute (EPRI), told the E-Commerce Times.
"It's just not going to happen," he added, noting, "We can do anything, but the question is, 'At what cost do you want to do it?' I mean, we could have an entirely clean generation portfolio — we could go the route of the French, where they are 84 percent nuclear, but the likelihood of that happening [is very small]."
A key problem, Perry said, is that by 2030 Americans will likely face a 32 percent increase of energy usage. "There are other things that people don't realize. Thirty years ago there were four plug-in devices in our homes that constantly used energy. Today, on average, there are 34," he said.
"Your set-top TV box that brings in your cable signal uses the equivalent amount of power that would run half a refrigerator. And if you have two of those, that's like running a full-sized refrigerator. … If you have a flat screen TV, that's using two to three times as much power as the one it replaced," he added.
Google, however, clearly hopes it can help stimulate significant personal and policy changes in America.
"We see a huge opportunity for the nation to confront our energy challenges. In the process we will stimulate investment, create jobs, empower consumers and, by the way, help address climate change," Reicher wrote.