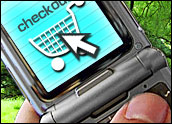 Most e-commerce sites are approaching their 10th birthday. The standard approach — with left-hand navigation and search, a product catalog and product detail, cart and checkout — is a tired format. Just like brick-and-mortar stores, Web stores need refurbishing, and retail is the new darling of Web innovation. After all, what major vertical has more to gain from the recent craze in social networks than retail?
Projects are getting funded, action is taking hold, and innovation is being born. Social shopping is not the only new idea — new e-tail concepts are emerging all the time that drive traffic, increase conversion and decrease abandonment while increasing brand loyalty and providing customer feedback directly to merchants. E-commerce is hot and is changing, and retailers are innovating their way through it.
However, newer e-commerce ideas have not been standardized into commercial e-commerce software, but the rapid pace of retail innovation makes retailers nervous to stand by and wait. There is pressure to innovate and grow, but retailers do not want to invest in anything prematurely and upset the golden goose: their current e-commerce sites that run the business.
The Testing Grounds of Microsites
This backdrop fuels the relevance of the microsite. These sites explore new ideas and brands within their own URL (universal resource locator), often only loosely associated or not associated at all, with the main e-commerce site. Microsites are testing grounds for new retail concepts with unique business models, and are also microcosm platforms to test out new technologies and architectures.
The new retail concept sites must prove return on investment. To do this, the investment and risk must be low so the main e-commerce site is not disturbed. If risk and effort are relatively low, then the microsite is a perfect way to explore new retail concepts, technologies and brands. Before we explore how to build microsites, let's first have some fun looking around at some good retail concepts using this technique.
Using RIAs to Drive Conversion and Brand Loyalty
Rich Internet applications (RIAs) can be used to create an enhanced customer experience that addresses the rapidly growing expectations of online shoppers. For example, American Eagle Outfitters' main e-commerce site features a left-to-right navigation, which is becoming more popular than the traditional top-down navigation because screens are getting wider, not taller. The company uses a good drop-down cart that keeps the shopping experience moving and helps increase average order size.
However, in an innovative way, the company is getting more progressive with its Martin + Osa brand by using RIA techniques to show off its wares. It has a smooth outfit configuration tool that uses a dress form as the virtual subject that tries on the apparel by simply dragging and dropping to assemble outfits. Equally important is how the layered items form an ensemble that the customer can easily price and add to their cart. RIA techniques are being used here, but they are subtle and don't get in the way.
Another innovative technique the site uses is within its outfits section. Interactive models spin and twirl as customers mouse over them, showing off the looks. When a customer filters collections, the models prance in and out of frame. This is clever, fun and gives customers a richer and more complete feel for the outfits. Finally, the zoom capability Martin + Osa chose is effective in that a zoomed product takes up the entire product-detail page, with the informational and transactional elements of the product detail page opaquely layered on top of the zoomed image.
Of all the features on the site, this may be the most controversial, as nothing must get in the way of the customer purchasing from a product detail page. Interlacing a product zoom image behind product information and order-taking functionality would be blasphemy on the major e-commerce site, this new concept is perfect to attempt first on a retail concept site.
Social Shopping
Social shopping is a major focus for retailers today. Baseline social capabilities such as ratings and reviews are widely accepted and adopted. Adding merchant blogs to drive SEO (search engine optimization) and customer loyalty have become popular, as have allowing customers to create references to retail products from Facebook, Del.icio.us and Digg. As these obvious social ideas work their way into main e-commerce sites, actual monetization of these techniques has not been definitively proven. The true social shopping experience may be more subtle than this.
Real social shopping starts with the customer, not with the technology. Historically, information architects have a keen understanding of the mindset of a user and can construct optimal user interfaces for them. However, what about the mindset of a community? How do people interact within an online group? The information architects have only just begun thinking about this new social state of mind and how to optimize the social shopping experience as a result.
Take, for example, the private-event retail concept. The idea here is to understand how a community shops socially within the context of a private event. Customers like belonging to an exclusive group, and when offered a special deal via a limited-time event, the experience becomes even more exclusive and exciting. The events only run for a limited time and each event has limited inventory, so it is first-come, first-serve.
The shopping is frenzied, because events and merchandise are limited. The experience provides exclusive access to premium goods at private sale pricing. The site is alive, in that it shows items as they are sold out. This drives an emotional mindset for the group and is a retail concept that effectively taps into crowds and spreads virally. This model demonstrates the correct way to approach social shopping: Identify the social mindset first, then create the features and functionally that fit the experience.
Retail Convergence, a company with a portfolio of e-commerce sites, had wanted an invitation-only, event-based e-commerce site, separate from its other stores. This eventually became RueLaLa.com. Many of the social shopping concepts integrated into the site are best-of-breed and innovative with the e-commerce experience (product catalog, product detail, shopping cart and checkout) specifically branded for the private-event retailing experience.
Even though RueLaLa.com has its own unique presentation, the back-end e-commerce capabilities leverage core services that already exist within Retail Convergence. In this way, almost all of the effort involved in RueLaLa.com was spent on the unique portions of the retail concept, such as how invitations are sent and events created, and not wasted on building baseline e-commerce functionality.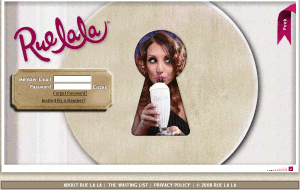 Ruelala.com – Private event retail login(click on image to enlarge)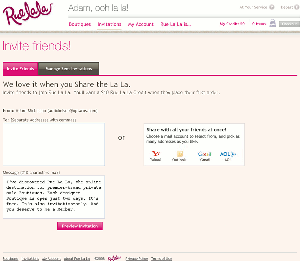 Ruelala.com – Customer invitation(click on image to enlarge)
Driving a Unique Brand
There are several examples of sites that are created to drive unique brands. The fundamental idea is to leverage your existing merchandising capabilities and push your products over multiple retail concept sites, each tuned for a different customer demographic. For example, Arizona Jeans is a retail concept site distinct in look and feel from its parent company JCPenney. The two sites effectively target different demographics.
Similarly, Urban Outfitters' site is targeted to a very different demographic than its Anthropologie brand. Both JCPenney and Urban Outfitters are using their core abilities to merchandise products in their sites, but are selling their products in very different ways using these distinct digital properties.
How to Build Microsites
The effort to create a new retail concept should be 80 percent user interface and 20 percent back-end functionality. The user interface engineers need a platform that can be altered quickly, without a lot of architectural hindrances. If the existing main retail site has services such as checkout, pricing and promotions engine, tax and shipping costs, and order management, then this back-end functionality should be used to build the new retail platform.
You do not want to create a new retail back-end for your retail concept, as this is too hard to maintain. Hiring an IT organization to support the retail concept is not feasible, too much "I." If your existing retail platform cannot readily support the back-end e-commerce features because hooking into it is too difficult, then a lightweight service-oriented architecture (SOA) can be put in place that handles the translation of the new retail concept UI to the back-end of your existing retail store.
With this perspective, a retail concept site not only allows retailers to readily meet the innovation demands to achieve measurable e-commerce growth via retail concept sites, but also simultaneously allows IT owners a realistic path to evolve their existing application architecture to a far more agile architecture.
---
Adam Michelson
is the e-commerce practice lead in North America at
Optaros
, a provider of open source e-commerce and content syndication solutions.
---