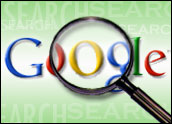 Seeking to further build on its hosted search and cloud computing efforts, Google on Tuesday launched an updated — and renamed — version of its hosted business site search solution.
The updated version of Google Site Search — the product was formerly known as "Custom Search Business Edition" — is meant to give customers more control over what information from their site is indexed for searching and greater control over how results are returned to users, Nitin Mangtani, Lead Product Manager for Enterprise Search at Google, told the E-Commerce Times.
Customers can now choose enhanced indexing of their sites by the Google search tool, can upload industry-specific synonyms so that results can be returned when users type a related word or phrase and can choose to weight results based on date and on what types of items they want to see returned at the top of the search results.
"What we've done is taken the cloud computing solution and married it with additional controls so webmasters can have more control on the indexing aspect and elements of the search process that's specific to how their site is used," Mangtani said.
Site search has become increasingly important as users have come to expect the same results when searching a Web site as they get from using major search engines to scour the Web as a whole, he added. "We know that search is becoming the default navigational tool for users on the Web and increasingly on specific Web sites as well."
Revved Up Index
While Site Search is positioned as suitable for all types of business Web sites, some applications seem especially well-suited for e-commerce sites. For instance, the ability to bias top results means that a site could set results to return items related to a search term that were the focus of an ongoing promotion.
"If you get a user to what they're looking for faster, you're increasing the chances they'll make a purchase," Mangtani said. "In a way, search is not just a technology aspect but a core marketing tool on these Web sites."
Customers pay a flat fee for the site search solution, starting at $100 for Web sites that contain fewer than 5,000 pages and $500 for sites with less than 50,000 pages.
Having the enhanced search in place can also become a research tool itself. Mangtani said one early customer of the product, TechSmith, found that users were continually searching on the site for terms such as "Mac" and "Macintosh." The maker of Web image capture technologies had previously made only Windows-compatible tools, but began developing Mac products once it saw that demand existed.
Another customer, EMC, said use of Site Search helped it increase conversion on its EMC Insignia small business site significantly, with sales up 20 percent and customer returns down 85 percent after the site search tool was put in place.
Work Remains
The updates represent "very necessary, but incremental, improvements to Google Site Search," Forrester Research Analyst Matt Brown told the E-Commerce Times.
The product "still lacks other features corporate site owners expect, like the ability to push new content into the index as it is published and/or modify the schedules with which content is crawled, so that new content can quickly be made available though the search function. But this release is definitely a step in the right direction," Brown said.
Small businesses in particular will find the price point and the ease of startup appealing, he added.
"In effect, this is the 'long tail' of enterprise search," Brown said. "This offering should prove a real value to corporate Web site owners who don't typically have large budgets for the search function itself, and instead rely on the lousy search that comes embedded on their Web server."
Mangtani said customers are embracing the cloud computing approach. "This is where it makes sense because a Web site is public anyway," he added.
Still, some wariness remains about turning over all their data and content to Google to index and make searchable, said Brown. Google raised some hackles with its search-within-search feature, he noted, which let users drill down deeper into a Web site's content while still on Google.com.
"Google has work to do to build awareness around what they are offering and to dispel people's concerns that they are solely in the business of monetizing other people's content through advertising," he said. "Without broader awareness and better transparency into exactly what Google does with the corporate site information it indexes, Google will continue to face a real identity crisis between what it offers to businesses through Google Enterprise and what it does through Google.com."
The changes "make quite a fundamental difference to what Google offered before, but they are not revolutionary in and of themselves," 451 Group Analyst Nick Patience told the E-Commerce Times.
"The fact that Google now offers Web site owners customization at no additional cost now means Google is going to be a formidable competitor to specialists that offered customization as a differentiator, but charge more — much more, in some cases — than Google did previously," he said.
"Cloud-based search does still have some problems, and it's not taken off as well as it perhaps should have done — but Google is the main cloud computing advocate in the world, and this should put minds at rest. After all, companies are already comfortable putting their customer data online, so this shouldn't be a huge issue as long as they have some control of what Google indexes and when. This gives them some of that, but I'm sure they will still demand more granular control before cloud-based site search becomes mainstream."