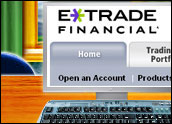 In a move aimed at keeping its customers connected — and encouraging them to trade more often — E*Trade on Thursday launched a mobile service customized for Research In Motion's BlackBerry device.
E*Trade Mobile Pro will offer the same user interface, security features and banking and trading services as the E*Trade Web site exclusively on BlackBerry smartphones.
While users of high-end smartphones could access E*Trade's Web site wirelessly, the new service adds mobile-friendly features, including enhanced security, while still giving users the ability to place and confirm trades and make bank transfers to fund stock purchases.
"E*Trade customers are always on the go, and are always looking for new ways to leverage technology in order to achieve their financial goals," said Michael Curcio, the company's managing director. The new service, he added, will give customers "real-time access to their accounts and the information that can move markets."
E*Trade shares were up more than 3 percent in afternoon action Thursday to US$4.07.
Going Mobile
E*Trade customers will be able to download the Mobile Pro application for free. With it, they'll have the ability to get real-time stream stock and options quotes sent to their BlackBerry devices. They will also be able to place direct trade orders and make transfers from and to bank and brokerage accounts, both those at E*Trade and at third-party institutions.
E*Trade plans to highlight its wireless platform in an upcoming series of TV, print and online ads, with the "Talking Baby" figure that appeared in earlier ads reprising that role to demonstrate how easy it is to use the platform. The television ads will kick off Thursday night with a spot during the first game of the NBA Finals.
The platform will work on several BlackBerry models, including the Curve, Pearl and 8800 series phones, as well as older models running on updated software.
The service is currently being beta tested, E*Trade said, and will be widely available starting July 1.
The mobile platform is the type of value-added service that E*Trade needs in order to distinguish itself in what is increasingly becoming a low-cost, low-margin business, Forrester Research analyst Bill Doyle told the E-Commerce Times.
"Discount brokers have been driving down the costs of trading, and service and points of contact are the places where someone like E*Trade can differentiate themselves from the rest of the market," he said.
The fact that the name of the service — Mobile Pro — leaves out the BlackBerry brand suggests the platform may be expanded to other devices in the future, he added. Apple's iPhone may make a logical next step given its surging popularity, for instance.
Password Protection
Mobile accounts will be password-protected, with the accounts set to automatically shut a user out after five minutes of inactivity, E*Trade said.
That level of security may be enough for some of the power traders who are most likely to gravitate toward the mobile platform, but broader adoption of mobile financial services will require overcoming other hurdles, said Yankee Group Senior Analyst Patrick Monaghan.
In addition to security — which will likely remain a concern for some time to come — consumers will steer clear of mobile banking because most pay their wireless carriers dearly for the type of data or Web usage the services require.
"Mobile banking in North America is gaining traction, but it's still far from becoming a reality," Monaghan told the E-Commerce Times. In contrast to the U.S., where mobile banking is being marketed mainly to higher net worth customers — as in the E*Trade example — in other countries, mobile banking is a low-cost alternative for many lower income people, he added.
All 10 of the largest U.S. banks have either rolled out mobile banking services or have such products in the works, the financial services research firm Celent recently reported. Many of those services offer limited functionality, however, such as the ability to check account balances.
The market remains a nascent one, with Celent estimating that only 3 percent of bank customer with online accounts will use mobile services this year. By 2010, however, that number is expected to grow to 30 percent.
It has already been a roller-coaster year for E*Trade, which was forced to take out full-page ads in key newspapers to reassure customers after an analyst report suggested that the brokerage's financial situation — it had invested in mortgage-backed securities products, which plunged in value — could lead to large-scale customer account withdrawals that could push E*Trade to bankruptcy.
Since then, E*Trade has reinvigorated its marketing efforts and heavily promoted the growth of its platform, running a series of ads highlighting that it was adding 1,000 new accounts every day.