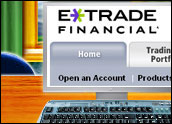 Looking to boost confidence among both investors and customers, online brokerage E*Trade Financial said Wednesday it had received a US$2.55 billion investment from a private equity firm.
After disclosing it had seen significant erosion of some assets due to the subprime mortgage meltdown and after an analyst raised the possibility of the company seeking bankruptcy protection, E*Trade had been forced to reassure customers that it would remain solvent, taking out a full page ad in The Wall Street Journal earlier this month to tell investors their accounts were safe.
Still, speculation was rampant that E*Trade would need to take drastic measures — such as seeking a merger partner — to fix its financial woes. Instead, E*Trade said it would accept the cash infusion from Citadel Investment Group.
Management Changes
E*Trade also said Chief Executive Officer Mitchell Caplan had resigned and that former Chief Operating Officer Jarrett Lilien would become acting CEO while a search was undertaken for a permanent replacement.
The deal calls for Citadel to acquire a 17 percent stake in E*Trade and appoint one of its executives to a seat on the company's board. The Chicago-based hedge fund will also acquire a portfolio of asset-backed securities from E*Trade, paying $800 million for the portfolio initially valued at around $3 billion.
"E*Trade's core business is strong," Lilien said. "This transaction with Citadel is not only a major vote of confidence from one of the world's leading financial institutions but also allows us to directly address customer concerns and get back to our real business, which is providing industry leading products and services to our customers."
Soothing Frayed Nerves
E*Trade stock rose more than 4 percent in morning trading Thursday to $5.51. Shares had fallen as low as $3.46 in recent weeks amid the subprime-fueled turmoil at the company.
E*Trade's recent woes began when the company warned that its fourth-quarter profit would be lower than previously forecast and detailed how much damage its subprime assets had suffered.
The decision to partner with Citadel came after a "thorough and robust review of strategic alternatives," said Donald H. Layton, whom E*Trade elevated to chairman of the board of directors.
"In the end, the board unanimously concluded that the transaction with Citadel clearly provides the greatest benefits to our shareholders and other constituencies. The company now has the financial strength to aggressively compete in the marketplace," Layton added.
The deal not only gives E*Trade additional liquidity but also removes from its balance sheet the assets "with the greatest market risk" and eliminates all $3 billion worth of asset-backed securities on its books, the company said. The online brokerage will take a $2.2 billion charge in the fourth quarter to reflect the sale of that portfolio, it noted.
E*Trade has not said how extensive customer cash withdrawals have been since its profit warnings on Nov. 12 and the subsequent research note from Citi Investment Research analyst Prashant Bhatia, who put the chances of E*Trade going bankrupt at 15 percent. At the end of the third quarter, E*Trade had 4.7 million customer accounts and $227 billion of assets.
Still Searching?
Equity firms that hold a stake in Ameritrade have been pushing for that brokerage to merge with E*Trade. The two companies are known to have held extensive talks without reaching a deal, with sticking points said to include who would run the merged entity.
E*Trade gained its exposure to the subprime investment market in 2001 when it purchased LoansDirect, part of a diversification push meant to reduce E*Trade's reliance on stock market trading at a time when the markets were in the midst of a long bear run, Forrester Research analyst Bill Doyle told the E-Commerce Times.
"E*Trade moved to become more of a full-service financial service firm and, in the process, it took on some assets that turned out to be time bombs in the mortgage crisis," Doyle said.
Wiping the slate clean is critical because E*Trade faces significant competitive pressure and changing expectations among consumers, many of whom are being offered free trading by multi-channel banks eager to use Web trading as a way of attracting more customers.
'Fallout Is Spreading'
E*Trade's Caplan is not the first CEO to lose his job because of the subprime meltdown, with Merrill Lynch CEO Stan O'Neal leaving under pressure over the losses that Wall Street banker suffered due to subprime, noted management consultant and venture capital Peter Cohan of Cohan & Associates.
While the impact on the overall economy is still not fully known, several high-profile technology firms — IBM and Cisco, for instance — have warned that their results could be impacted by lower spending, particularly among customers in the financial services arena.
"The fallout is spreading wherever subprime mortgages have been bought," Cohan told the E-Commerce Times, adding that even months after the problem first arose, it's still not clear how much securities such as collateralized debt obligations, or CDOs, used to back subprime loans are worth.