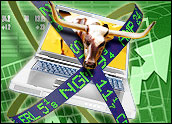 Two hedge funds are pushing TD Ameritrade Holding to pursue a merger with a rival firm, the online brokerage announced Tuesday.
As an attachment to its regulatory filing, TD Ameritrade included a May 29 letter from hedge funds Jana Partners and S.A.C. Capital Advisors, which own an aggregate of about 50 million shares of the company, equivalent to 8.4 percent of the outstanding stock.
The company's stock price increased as much as US$1.13 to a high of $21.08 in Wednesday trading. As of March, TD Ameritrade had a market value of about $9.6 billion, according to Fortune magazine.
'Glaring Conflicts'
In their letter, the two funds write that they believe TD Ameritrade can "dramatically increase shareholder value" by merging with either E*Trade Financial or Charles Schwab. Cost savings, revenue synergies and strategic benefits are all among the advantages the funds name as motivations for a merger, as well as "industry dynamics favoring consolidation."
However, the funds go on to point out some possible opposition to such a union from Canada-based Toronto-Dominion Bank, which owns a 40 percent stake in TD Ameritrade.
"We believe that representatives of the Toronto-Dominion Bank on TD Ameritrade's board of directors, despite glaring and untenable conflicts of interest, may be standing in the way of this result for shareholders," the funds wrote.
National Divide
That conflict of interest stems from the disconnect between TD Ameritrade shareholders' interests and those of Toronto-Dominion, which "views its significant ownership and influence on the company as being critical to its U.S. strategy and necessary to maintain favorable accounting treatment," they added.
The two hedge funds have notified TD Ameritrade that each of them has sought regulatory approval to acquire additional shares in excess of $600 million, the company said in its filing.
Strategic Fit
"TD Ameritrade has a long history of growing through successful acquisitions and organic growth," the company said.
"Industry consolidation is an important consideration of the board, and TD Ameritrade has publicly stated that it is interested in growing via combination, at the right time and if it can reach agreement for the right strategic fit," it added.
Indeed, TD Ameritrade is the result of a 2005 merger between Ameritrade and TD Waterhouse. Around the same time, it rejected a takeover offer from E*Trade, which has yet to comment on the new merger possibility.
Charles Schwab has reportedly said it is not interested in a merger.
Customer Objections?
The union with TD Waterhouse took a long time to happen, and involved considerable annoyance for many registered investment advisers, so word of another deal may be met with a cool reception, Kenneth Prather, owner of Prather Investment Management and a TD Ameritrade adviser, told the E-Commerce Times.
"We've gone through a pretty belabored conversion process as Ameritrade's platform merged with TD Waterhouse's — in the end it will have taken two years before everything is settled," Prather said. "Another merger could mean more headaches."
Customers might also object over the changes that will inevitably result, he said, as may mutual fund families, which could find themselves squeezed out as the newly merged companies gain increased power to decide who remains on the resulting platform. "If a mutual fund isn't paying enough," he explained, "they could just be told, 'sorry.'"