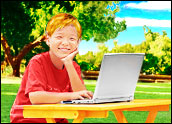 Google soon will begin targeting kids 12 and under with tailored versions of its products, likely including its search functionality, along with offerings such as YouTube and Chrome.
The company is pushing to change make its products fun and safe for children, Pavni Diwanji, Google vice president of engineering, said last week in a USA Today interview.
Though Google didn't offer a timetable for the new initiative, which reportedly will begin next year, it indicated it will be a full-time effort that follows in the same vein as its other recent children-focused efforts, including Made w/Code, which last week began lighting up holiday trees on display in Washington, D.C.
Not the First Time
"All of the big networks are looking at how to address young people and preteens who are using the network and lying about their age," said Parry Aftab, a privacy lawyer and executive director of WiredSafety.
"There may be a profit motive for the companies, but it's become a real problem," she told the E-Commerce Times.
It took just three weeks or so after the passage of the Children's Online Privacy Protection Act (COPPA) for kids to realize that "all they had to do was lie and say they were 13" in order to use the major social networks, Aftab recalled. "None of the lawyers understood COPPA, but kids understood what it meant in three weeks."
Google's move "is realistic and good for kids," she said. "I think it's good they're doing it. We've got to keep them safe, and it's not like we're letting them in for the first time — it's just the first time when they're not lying about their age."
They're Online Anyway
With the current state of affairs, parents may give their permission for kids under 12 to use social networks, but unless sites like Google are set up for COPPA compliance — and Google is not — "that's no better than parents saying their child can drive at the age of 12," Aftab remarked. "It's a problem everyone in the industry is trying to face."
In general, companies want to be able to target preteens with content appropriate to them, she said.
"I have no problem with Google or anyone else doing this," continued Aftab, "if a) they know what they're doing; and b) they're doing it with child safety and appropriate content in mind."
The reality of the world today is that kids are online anyway, Aftab observed. "We have to make them safe, and we can't do that unless we know how old they are."
Special Safeguards
Organizations like the Center for Digital Democracy already have told Google that "to develop special safeguards if they want to target kids 12 and under," said Jeff Chester, executive director.
"We want Google and Facebook to understand that in addition to protecting child privacy, they also have to protect kids from unfair marketing," he told the E-Commerce Times.
Junk food advertising is a prime example of marketing that could be bad for kids, he pointed out.
The Next Generation
Google is "trying to develop the next generation of users," said Greg Sterling, vice president of strategy for the Local Search Association.
"That's not entirely the company's motivation, but that would be a potentially significant benefit of this initiative," he told the E-Commerce Times.
"A parallel effort is their Chromebooks in the schools push," Sterling noted, "which is paying dividends for them now."