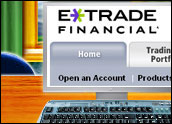 Online brokerage E*Trade has named Donald H. Layton as its new chief executive officer, giving the financial services industry veteran the task of stemming a stock price drop and finding profitable growth opportunities.
Layton had served as chairman of E*Trade's board since last November, when he came on board in connection with a US$2.5 billion cash infusion the company took to help it handle spiraling losses tied to mortgage-backed securities and subprime loan products.
E*Trade's board unanimously elected Layton to the post. He'll replace R. Jarrett Lilien, who had served as interim CEO since November. Lilien — who E*Trade tapped to fill the top spot temporarily after its board ousted Mitch Caplan — will return to his former roles of president and chief operating officer.
'The Right Choice'
Since joining the board, Layton has had a major hand in helping to "construct the company's turnaround plan," said C. Cathleen Raffaeli, an E*Trade director who headed up the CEO search committee for the brokerage. "The board is highly confident that Don is the right choice to return E*Trade Financial to its position as a growth company."
Layton is "fully convinced that the E*Trade franchise has immense strength," he commented. He cited a strong rebound in customer deposits, which had plunged last fall amid worries about the company's long-term financial viability, woes underscored when an analyst raised the possibility of the company possibly needing bankruptcy protection.
"I also believe that our current financial issues can be effectively managed despite the tough environment," Layton added.
Work Ahead
E*Trade shares rose about 3.5 percent in morning trading Monday on the news to $4.42. The stock has seen its value slashed some 60 percent from its highs of the past year. Shares began to fall from above $25 per share last summer.
E*Trade managed to slow the tide of customer defections that peaked around the time that Citi Investment Research analyst Prashant Bhatia warned that customer account withdrawals could get worse and lead to the broker being forced to seek asylum in bankruptcy. Customers yanked some $16 billion out of E*Trade accounts in the fourth quarter.
Since then, E*Trade says it is again adding trading accounts at a strong clip and launched a new marketing campaign that included a Super Bowl commercial.
E*Trade's efforts to expand beyond online stock trading earlier in the decade helped set the stage for its mortgage-backed securities woes, Forrester Research analyst Bill Doyle told the E-Commerce Times.
"It really spread its reach into other areas, and in doing so, it took on a lot of same risk that traditional banks have been dealing with as the subprime market began to unwind," Doyle said.
Meanwhile, he noted, customers haven't been all that satisfied with the way E*Trade's online accounts work, with relatively poor marks from consumers on the usability of the platform. E*Trade said last month it would invest to upgrade that platform, which could help it keep customers from defecting to rivals such as Ameritrade and Fidelity, and eventually help it attract new ones.
White Knights
E*Trade was saved from its losses last fall by an aggressive bailout package from Citadel Investment Group, which took a stake in the company as it bought subprime assets at fire-sale prices.
As those issues were dealt with, past calls for E*Trade to complete a merger with Ameritrade died down some, but the new CEO may find himself answering questions about consolidation before long, though with its balance sheet still under pressure from the write-downs, it may no longer be in a position to be a buyer of a rival.
The short-term mission for Layton will be to restore profitability, something that could take time given the company's recent surge in marketing expenses meant to help it reassure its customer base, said Banc of America Securities analyst Michael Hecht.
Its performance will also be measured against that of Ameritrade, which recently reported a strong quarter, due at least in part to a surge of new accounts from former E*Trade users, a trend that broker will likely have trouble sustaining, Hecht told the E-Commerce Times.
Still, while institutional investors have pushed for a merger and while combining back-end operations could help enhance profits, consolidation may not be the answer for growth. "The cultural hurdles that have been in place since a merger was first discussed have not gone away," he added.
Layton brings a resume deep with financial services industry experience to the role, including 29 years at JPMorgan Chase & Co., where he ran the entire Chase business for a time, including its consumer-facing credit business, and had previously comanaged the Wall Street banking operations of JPMorgan.