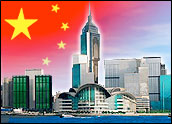 China's telecommunications marketplace will undergo a massive transformation after China Unicom agreed to buy China Netcom Group for US$23.9 billion in stock and sell its own mobile division in a side deal worth another $16 billion.
The details of the series of deals have been awaited for more than a week, with trading in shares of the various companies halted on May 23 on word that a transaction was in the works. The Chinese government has been moving to create a more competitive telecommunications landscape, banding together smaller regional companies and now creating another provider with the capacity to provide both fixed-line and mobile service to China's massive and sprawling population.
Under the terms of the deal, each share of Netcom will be exchanged for 1.508 Unicom shares. Both companies are listed on the Hong Kong exchange. The merger can be completed before the end of this year, the companies said. Both companies' shareholders meet in September.
Convergence Trend
The resulting company will be worth about $63 billion and will be able to deliver both mobile and fixed-line communications products, broadband Internet access and other services as China's telecom marketplace matures and evolves.
"The merger is in line with the trend of convergence of fixed-line and mobile networks and is expected to enable the merged group to set clear strategy," said Chang Xiaobing, chairman and chief executive officer of China Unicom.
In a nearly 40-page statement submitted to the Hong Kong Stock Exchange regarding the deal, Chang added that "Unicom management believes that the restructuring will be a new starting point for Unicom's development in the future."
Toe to Toe
China Unicom will also sell part of its own mobile business to China Telecom. That CDMA business will enable China Telecom to also become a provider of both wireless and wire-line services. That part of the deal, valued at just under $16 billion, will be completed as an all-cash transaction and will enable Unicom to focus on rolling out 3G services on WCDMA technology.
Investors should be patient with the pace of progress going forward, warning against "over optimism" regarding the results of the merger, Chang said, cautioning that additional work remained to be done.
The deals may help create more competition for dominant mobile carrier China Mobile.
The Chinese government is expected to issue 3G spectrum licenses to each of the merged entities, granting a CDMA license to China Telecom, a WCDMA license to the merged China Unicom while allowing China Mobile to build out a third-generation network based on time division synchronous code division multiple access, or TD-SCDMA.
Different and the Same
Despite the obvious differences — most notably the more direct involvement of the Chinese government — the merger frenzy is reminiscent of the wave of consolidation that swept over the U.S. telecommunications industry several years ago.
The result of that activity was the creation of four national telecom powerhouses. It has also led to a rapid decrease in the number of landline accounts for each company as mobile service and Internet-based calling replaces more traditional approaches.
Those same trends appear to be in place in plenty of other markets, with some twists, said telecom industry analyst Jeff Kagan. "Each market is different," he told the E-Commerce Times. "But the overall direction of the industry is similar around the world."
The expense of building out massive networks — either fiber-optics-based or wireless — helps encourage consolidation, as does the desire to offer a broader array of services, he added.
Wireless is particularly important in many emerging markets, where the build-out of landline networks is often skipped as economies rapidly modernize. Given China's sheer size, some parts of the county are still not wired for traditional calling, noted Joss Gillet, a senior analyst at Ovum's Wireless Intelligence.
China is already the world's largest wireless marketplace, having likely surpassed 500 million wireless connections late in 2007. China Mobile has clearly benefited the most from that growth, but can only expand so rapidly.
Much of the recent investment has been aimed at preparing the country for the summer Olympics, with networks in and around Beijing and other large cities being significantly improved, Gillet told the E-Commerce Times.
"Even though traditional cellular growth remains strong, high-speed connections will be the next wave of growth for the carriers in China," he said. By bringing more companies into the space with more resources, China may be able to accelerate the pace of growth, he added.