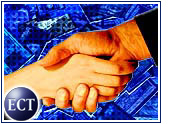 To say Amazon.com (Nasdaq: AMZN) has been busy striking partnerships lately would be an understatement.
In barely more than a month, Amazon announced deals with Circuit City (NYSE: CC), Target (NYSE: TGT), Expedia (Nasdaq: EXPE) and Hotwire.com. Those pacts came on the heels of earlier deals with Borders (NYSE: BGP) and Toys "R" Us (NYSE: TOY).
And despite some bad timing along the way — the Target deal was announced on September 11th, just minutes before the U.S. was attacked by terrorists — analyst reaction has been almost exclusively upbeat.
Yet over the same period, Amazon's stock price has slumped, dipping below the US$6 level on September 27th. As of 10:00 a.m. Friday morning, the shares were trading at $7.
Why the shrug from investors? Has Amazon gotten all the mileage it can out of these deals? Or are there still potential partners out there who could give Amazon both the bottom-line and stock-price boost it has been looking for?
Size Matters
"All of these deals are positive news for the companies involved, but they're not enough to change my investment opinion on Amazon," W.R. Hambrecht & Co. analyst KristineKoerber told the E-Commerce Times. "Whenever you're involved in revenue sharing, you're only getting a small piece of the action."
Koerber noted that the services business accounts for less than 10 percent of Amazon's overall business, so even large gains in that area would have a minimal effect on the bottom line.
No Risk Guarantee
On the other hand, few of the deals have cost Amazon much, if anything, to implement.
"They're not very capital-intensive for Amazon, so I don't see how they can hurt," Morningstar.com analyst David Kathman told the E-Commerce Times. "And they might well help. They could become an important ancillary revenue stream."
Mixed Bag
Indeed, not all of the deals have been seen as big revenue-generators. And not all of Amazon's initiatives have worked out.
When the e-tailer announced it would launch a computer sales section, it partnered with Overstock.com, which also agreed to supply some of Amazon's electronics products.
But days after the computer store launched, amid an already depressed PC sales market, Overstock quit the Amazon deal. At the time, Overstock said it sold only one computer on Amazon in a three-day period.
At the same time, the incentive for partners to link with Amazon remains clear. No pure-play e-tailer has either the customer base or the e-commerce experience of Amazon.
Core Issues
For better or worse, analysts say that Amazon is likely to keep on partnering. Its deal with Expedia and Hotwire shows that the e-tailer is not necessarily making exclusive deals.
Forrester Research analyst Henry Harteveldt compared Amazon to an online shopping mall. And malls often have more than one store in any given category.
However, all the partners in the world are not what Amazon needs most right now, according to Hambrecht's Koerber.
Book 'Em, Bezos
Koerber doubts there is a single blockbuster deal waiting in the wings that will change that opinion.
"The big issue with Amazon is and will always be their ability to grow their books, music and video category," Koerber said.
Initiatives like the home page personalization effort and targeted product recommendations will help Amazon and chief executive officer Jeff Bezos in that area.
"I get the sense, despite the attention these outside deals get, that Amazon is still very focused on growing [the books, music and video] business any way they can," Koerber added.