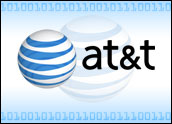 AT&T grew its business strongly in the past three months, delivering its tenth quarter in a row of double-digit earnings-per-share growth.
The San Antonio-based telecommunications giant, the nation's biggest, reported quarterly revenues of US$30.1 billion, almost double from a year ago, and net income of $3.1 billion.
Many of the big increases were attributed to AT&T's completion of its acquisition of BellSouth, but AT&T also pointed to strong growth of its wireless business, which gained about 2 million new subscribers in the quarter.
iPhone Helped
AT&T's exclusive deal with Apple to serve as the only U.S. carrier compatible with the popular iPhone helped matters and the company also cited growth of its U-verse TV-over-broadband service as well as Internet Protocol (IP) data revenue from enterprise customers.
"We delivered an excellent third quarter," said AT&T Chairman and CEO Randall Stephenson. "Revenue growth continues to ramp, merger integration is on track, adjusted earnings and free cash flow are both strong."
The the strong quarter indicates AT&T is on the right track, Stephenson said.
"Wireless subscriber gains stepped up dramatically," said Stephenson. "Our enterprise business has greatly improved momentum. Broadband growth is solid. And our AT&T U-verse TV install rate already approaches our year-end target of 10,000 per week."
Few Choices
AT&T's subscriber gains might have something to do with the fact that there are only a handful of wireless carriers from which to choose in any given U.S. market, Yankee Group analyst John Jackson said.
"In terms of subscriber additions, this performance is encouraging, but not surprising news," Jackson told the E-Commerce Times. "The current market structure for wireless service providers is relatively concentrated, so the users that are coming into the market or those changing carriers have comparatively fewer choices."
Companies such as AT&T that offer good customer relations management and effective marketing "including sexy phones, are in a position to take share," Jackson said.
Image Boost
AT&T was in the news frequently during the quarter because of its involvement with perhaps the sexiest phone yet: the super-hyped iPhone. Jackson said AT&T's image got as much of a boost as did its balance sheet.
"The iPhone has clearly helped AT&T secure much needed cachet as well as service revenue, but it's one of several deliberately wrought and circumstantial issues that are helping their cause," Jackson said.
AT&T and Apple sold almost 1.1 million iPhones in the U.S. during the quarter, according to Strategy Analytics. The unit has become AT&T's top-selling device, grabbing 13 percent of AT&T's overall handset sales, and it said the iPhone might become the top-selling device in the nation during the next year or two, the research firm noted.
Wireless in Bloom
AT&T has 65.7 million wireless subscribers in the United States and, through roaming alliances, "provides the largest global presence among U.S. wireless carriers," the company said.
AT&T's wireless revenues totaled $10.9 billion, up 14.4 percent from the same quarter in 2006. "This marked AT&T's fifth consecutive quarter of improved wireless revenue growth," said the company. Wireless service revenues, which do not include handset and accessory sales, grew 13.7 percent to $9.9 billion during the quarter and wireless data revenues increased 63.9 percent compared with the third quarter of 2006.
Average Revenue Per User (ARPU) grew by a slim 2 percent, said AT&T, a figure that concerned some analysts. Jackson wasn't among them.
"I've seen some negative commentary from analysts around the 2 percent increase in ARPU," he said. "I think, in absence of a national 3G network and whatever killer applications might ride on it, any incremental increase in ARPU reflects an effective pricing scheme."
Wired for Revenue
The company saw 21.6 percent growth in wireline IP data revenue. It reported 6 percent growth from small and mid-sized business (SMBs) and 6.9 percent growth in regional business data revenue primarily driven by gains in broadband, managed Internet, Ethernet and VPN services.
AT&T grew its U-verse subscriber ranks to 126,000, up from 51,000 at the beginning of the quarter. "Weekly install rates in the final weeks of the quarter approached 10,000, up from approximately 5,500 three months earlier," it noted. "Total video connections, which include AT&T U-verse service and bundled satellite television service, increased by 215,000 in the quarter to 2.1 million."
By the end of the quarter, 6.7 percent of AT&T's non-commercial customers were buying video services, up from 4.2 percent one year earlier, said the company.
AT&T seems to be firing on all cylinders, Strategy Analytics analyst Barry Gilbert said.
"AT&T's strategy appears to be coming together," he told the E-Commerce Times. "They are showing reduced churn, increased ARPU, generated 2 million new subscribers and have an exclusive on a winning handset, the iPhone. That said, nothing lasts for long in this business. The stakes are high and the competitors are hungry. The big question now is how sustainable is the momentum being observed with AT&T's wireless execution?"