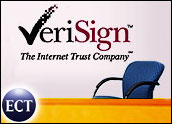 In an attempt to focus its "strategic direction" on providing Internet infrastructure services, VeriSign is divesting itself of a number of companies it acquired over the years.
The divestiture plan, announced at the company's 2007 Analyst Day in New York, is part of a plan to return to basics after finding that expansion through acquisition of diverse companies proved to be unsuccessful.
"VeriSign's business strategy moving forward will be more tightly aligned with its core competency — providing highly scalable, reliable and secure Internet infrastructure services to customers around the world," the company said.
Rediscovering Itself
The announcement comes shortly after The Wall Street Journal reported VeriSign was talking to private equity firms and wireless phone companies that might be interested in buying some of its underperforming subsidiaries. VeriSign did not say which companies it plans to ax, but they are reportedly the ones that focus on communication, billing and commerce.
This will allow VeriSign to invest more in extending the footprint of its core businesses, such as secure sockets layer (SSL) Web certificates and the Internet Registry Business (VeriSign Naming Services), and developing closely aligned growth opportunities, such as identity protection services.
VeriSign's new approach, "moving away from the business models that are away from its core," seems to make sense, Nucleus Research analyst Rebecca Wettemann said. "It will be interesting to see who's looking to buy those pieces and also how this improved focus delivers more value to customers," she told the E-Commerce Times.
Three Main Segments
VeriSign operates the .com, .net and .tv Internet suffixes and plans to focus its money and energy on growing those Web site naming services. The company said its naming programs and services "will focus on providing tools to customers which will grow the existing lines of business, new top level domain-like opportunities, and new programs internationally."
VeriSign also wants to focus on its Web certificates business, the commonly-seen certifications that accompany sites using Secure Sockets Layer technology to enable secure Internet transmissions. Additionally, VeriSign will focus on its identity protection services, noting its VeriSign Identity Protection (VIP) Service is a "comprehensive suite" providing identity protection and authentication.
The goal is to do better by VeriSign's investors, CEO Bill Roper said.
"The combination of focus and disciplined execution will provide the foundation we need to generate improved shareholder returns," said Roper. "We have leadership positions in great businesses with high growth, attractive economic returns and significant barriers to entry."
Still Somewhat Fuzzy
Even after it winnows itself to only three companies, VeriSign might remain unfocused, said Eric Goldman, an assistant professor at the Santa Clara University School of Law and director of the High Tech Law Institute.
"It's a little hard to tell which businesses they are divesting," Goldman told the E-Commerce Times. "It's also not clear how the remaining businesses represent a cohesive whole."
Goldman said VeriSign's decision to focus on its site-naming operation might be wise since there has been some big growth in that segment. "Certainly the domain name industry has seen resurgence, although some might question how much of this is being fueled by domainers and other speculators," he said.
The effort at returning to its core competency could reflect a finding by VeriSign that it was spread too thin, Wettemann said.
"They have a number of units that are selling to different decision makers with very different value propositions," she said. "So what they may have found is that there wasn't the complementary sales opportunities they thought there would be."