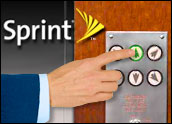 Acknowledging improvements are necessary and saying he's the right man for the job, Sprint Nextel has chosen former Embarq CEO Daniel Hesse to be its new president and CEO.
The 54-year-old Hesse, described in the company's official announcement as being a "wireless industry veteran," replaces former Sprint Nextel CEO Gary Forsee, who resigned in October.
As did Forsee, Hesse faces significant challenges at the telecommunication company which has been beleaguered with customer defections and loss of market share.
A Mandate to Improve
Sprint Nextel has "a strong set of assets" but, added non-executive chairman James Hance, "clearly we must improve execution across the board."
Hesse has the wherewithal to turn around the company, Hance said. "Dan's mandate is to hone our strategy, improve our ability to serve our customers and execute in the marketplace," he said. "I am convinced that under Dan's leadership we will deliver sustainable results and build shareholder value."
"Dan Hesse is the right person" to lead the company, asserted Sprint Nextel board member Irvine O. Hockaday Jr., who served as chairman of the board's CEO search committee. "He is a proven leader with deep wireless experience as a chief executive and an established track record of generating strong operating performance. He has the board's full support to take decisive actions necessary to improve our performance."
Telecom in His Blood
Hesse, who also joins the Sprint Nextel board, served as chairman and CEO of Embarq since the company was spun off by Sprint in 2006. Before that, he was CEO of Sprint's local telecommunications division for a year.
Prior to joining Sprint, Hesse spent 23 years at AT&T. He was president and CEO of the company's wireless services division between 1997 and 2000. "Under his leadership, AT&T Wireless became the nation's largest carrier at the time and grew revenues three times faster than the rate of the industry," said Hance. "The company earned awards for service and innovation, along with recognition for overall performance."
"There is no company in the wireless industry with a stronger set of assets," Hesse said. "I believe through solid execution and commitment to our customers we can reinvigorate our operating performance and return the company to a growth trajectory. We will review every aspect of our strategy as we intend to lead Sprint to the forefront of the wireless industry."
Unhappy Customers, Tough Competitors
It will take more than simple cost-cutting to save Sprint, said 24/7 Wall St. analyst Doug McIntyre.
"Companies that are in trouble turn to layoffs almost routinely, but I don't think that solves long-term problems," McIntyre told the E-Commerce Times. "Their long-term problem is they are a company whose customers have a negative view of the company and they have two competitors who are extremely well-funded, are ahead in terms of total subscribers and where customer satisfaction ratings are much superior."
Hesse is as good a choice as possible for the new CEO, but McIntyre noted the water is fast rushing into the holes in the Sprint Nextel hull.
"The issue, really, is that Sprint has a number of problems that can't be solved in a short period of time," said the analyst. "I think the odds are he is going to do a job comparable to what most other people would do. The strategic issues facing the company don't change at all … He is still faced with some really awful decisions."