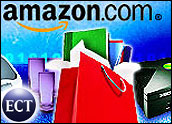 Amazon.com executives and investors had a very merry holiday season as buyers chose the online mall in huge numbers.
Amazon said the 2007 holiday season, its 13th, was its best ever in terms of sales. While the Seattle-based e-commerce giant did not reveal final sales figures, it noted customers ordered more than 5.4 million items on Dec. 10, its busiest day of the season.
In an announcement that went to great — and sometimes strange — lengths to put its sales volume into perspective ("Amazon.com sold enough auto wrenches to stretch all the way around the Daytona 500 track"), the company said it was handling 62.5 items per second on Dec. 10.
This was the second year of Amazon's "Customers Vote" program, which allowed customers to choose the promotional deals they would receive. The promotion saw more than 4.6 million votes cast, Amazon said.
Monday Blues Turn Green
When it came to raking in the dollars on Dec. 10, Amazon wasn't alone. The day, dubbed "Green Monday," will reign as the heaviest online spending day of the season, said comScore, a Reston, Va., company that tracks e-commerce.
The company issued a report saying online buyers spent about US$881 million on Dec. 10. Last year, the figure was about $660 million, said comScore.
ComScore estimates the holiday season total for online sales will be about $29.5 billion. Last year, the figure was $24.6 billion, Andrew Lipsman, a comScore senior analyst, said.
The growth rate of online commerce seems to be leveling a bit, he said. While holiday online sales increased by about 26 percent last year, they grew by "a little above 19 percent" this season, Lipsman told the E-Commerce Times. "So this year did represent a softer growth rate, a maturing industry," he said. "A very high growth rate is hard to maintain forever."
Tweaks Did the Trick
Not all online retailers shared Amazon's success. ComScore measured a decline in visits by shoppers to Overstock.com, Lipsman said, but Amazon's proclamation about having the best season so far appears valid.
"When we looked at certain metrics with respect to Amazon, they were showing above-average growth," said Lipsman. "We highlighted some of the retailers that seem to be having record growth and Amazon was one."
Lipsman said a number of factors might explain Amazon's blockbuster season. He cited the redesign of the company's site and the addition of new technologies that enhance the shopping experience.
Neck-and-Neck With Multichannels
The growth rate of retail sales by pure-play companies such as Amazon, which sell only over the Internet, is now about equal to that of multichannel retailers with brick-and-mortar stores and Web sites, Lipsman said.
"One of the things we have actually seen in the past few years is that the multichannel retailers, such as Target and Best Buy, their growth rates were significantly higher than the pure plays like Amazon and eBay," said Lipsman. "But this year really there was sort of a reversal. The growth rate between pure plays and multichannels were nearly identical. Pure play sort of had a resurgence this year."
Lipsman doesn't believe the high price of gas has anything to do with it. "The reality of what is happening now is that most consumers, at this point, have bought online and don't have anxiety about it anymore," he said. "They are finding it's a nice supplement to their shopping experience."
In Perspective
Amazon shipped more than 99 percent of its orders in time to meet holiday deadlines worldwide. On Dec. 10, the company's fulfillment network shipped more than 3.9 million parcels.
Those orders went out to more than 200 countries. It sold Nintendo Wii consoles at the rate of about 17 per second before they were sold out, Amazon said.
Among the many tidbits of holiday shopping news released by Amazon was a claim it sold enough high-definition DVD players to cover seven football fields. Amazon also said it sold a lot of global positioning system gadgets, noting that "if you lined up all of the GPS units Amazon.com sold this holiday, they would make a trail from New York to Philadelphia; however, a new trail wouldn't be necessary with the use of a GPS."
There were enough Hannah Montana wigs sold by Amazon "to outfit the entire audience at her December 20th show in Providence, R.I.," noted the company.