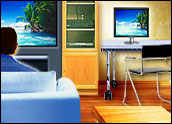 Predicting the deal will "revolutionize" home entertainment, Macrovision has agreed to acquire Gemstar-TV Guide for about US$2.8 billion.
Macrovision, based in Santa Clara, Calif., creates technology designed to thwart people from watching and copying digital material without proper authorization. Gemstar-TV Guide's mainstay is the iconic TV Guide television programming guide. A large chunk of the company is owned by Rupert Murdoch's News Corp.
Pieces of the Pie
Stocks for both companies declined after the deal was announced.
A new holding company will be formed to own both the companies. Gemstar shareholders will be able to choose either $6.35 in cash per share or a quarter-share of stock in the new entity.
"The per share value of the transaction to Gemstar-TV Guide stockholders, based on the closing price of MVSN (Macrovision) stock on December 6, 2007, represents a 29 percent premium to the 10 day average closing price of Gemstar TV Guide's common stock prior to its review of strategic alternatives announced on July 9, 2007," noted the companies.
After the deal closes, something expected to happen in the spring, Macrovision stockholders will own about 53 percent of the new company, and former Gemstar-TV Guide investors will own approximately 47 percent.
Creating Superguides
By combining, the companies will be able to create "extensive libraries of commercial and personal protected content" that will be available on many different types of devices "through simple and intuitive guides," the companies said.
The goal is to enable people to access a guide on their televisions from which they will be able to select all sorts of material, including "personalized content and information regarding their favorite TV shows," movie reviews that can be read before they buy or rent films, personal photos and music libraries.
"The combined company will be a leading enabler of the digital home entertainment experience and well-positioned to capture emerging opportunities across this exciting landscape," said the announcement, which asserted "interoperability barriers between devices and services" currently preclude such access.
The Still-Elusive Digital Home
People are asking for an "open, easy to use and integrated set of capabilities that deliver on the promise of the digital home," Macrovision President and CEO Fred Amoroso said.
Content providers, distribution channels and device makers are having trouble delivering those capabilities while "preserving their unique value propositions," said Amoroso, who will become president and CEO of the new company.
The new entity's "complementary technologies, customers and global presence" can "redefine the consumer entertainment experience," said Amoroso's counterpart at Gemstar-TV Guide, CEO Rich Battista — who will depart after the deal is closed.
Somewhat Confusing
In particular, the deal will merge interactive programming guide technologies, delivery tools and infrastructure, information about entertainment content, interoperability technology, content protection and consumer-oriented Web sites, according to the companies.
The endeavor makes little sense to J. Gold Associates Principal Analyst Jack Gold.
"I'm not sure why they want to do this, as this is at the periphery of their business," Gold told the E-Commerce Times. "It sounds like they are moving towards becoming a TiVo, and if so, then TV Guide makes sense for them."
However, most of Macrovision's expertise — and its revenue — lies in copy protection, Gold noted.
"Unless they plan on somehow protecting the TV Guide, I'm not sure how this meshes up with them," he said.
Ups and Downs of a TV Icon
Also unsure what the new company will end up doing is Robert Thompson, director of the Center for the Study of Popular Television at Syracuse University's S.I. Newhouse School of Public Communications. However, there's probably a need for a guide that does, for 21st Century America, what the original TV Guide did at the dawn of television, Thompson said.
"The goal of making a mass of programming accessible to people is even bigger now than then," Thompson told the E-Commerce Times. "If this new deal can serve that purpose in a way relevant to the 21st Century … that would certainly be a valuable service."
As a professor, Thompson tends to take a historical approach. The impact and importance of TV Guide in the early 1950s cannot be underestimated, he said.
"TV Guide used to be one of the icons of the emerging media," said Thompson, noting that furniture makers once provided slots designed to fit the ubiquitous magazine. "TV Guide was almost the user manual, the Bible, of what used to be the new technology. But TV Guide, as a cultural phenomenon, has probably taken as big a hit as anything has as a result of these new technologies. The printed listing became as archaic as a horse-drawn carriage. Even if you tried to keep up with 500 channels, there is no way it could be user-friendly."