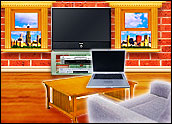 Television once represented the Holy Grail for advertisers. As millions of consumers tuned in to watch their favorite dramas and sitcoms, it presented advertisers with unprecedented opportunities to reach millions of target customers quickly and easily. However, as technology has advanced, television's grip on consumers has loosened. To protect the golden goose, television networks are trying to make their ads stickier, and are tinkering with new multimedia advertising models.
Television's hold on consumers has been slipping since the '60s and '70s, when three networks ruled the airways. Since then, cable television has made inroads into TV's market share, and various technologies emerged that made advertising less attractive. The changes have left TV at a crossroads.
"Many advertisers are looking at new media options, like Google and Yahoo, to promote their products," said Gordon Borrell, president of Borrell Associates, an advertising market research firm.
However, TV's power is still clear. "Even today, the easiest way for an advertiser to reach a broad number of potential customers is through network television," said Todd Chanko, an analyst with market research firm JupiterResearch.
Get the Picture?
Nevertheless, TV continues to offer a compelling experience. "Companies are enamored with the visual effects that television offers them when presenting their products," Barbara Bacci-Mirque, executive vice president at the Association of National Advertisers (ANA), told the E-Commerce Times. As a result, TV advertising continues to be a major source of revenue: JupiterResearch expects companies to spend US$44.1 billion on advertising in 2007 and to reach $48.5 billion in 2011.
While those numbers are large, TV advertising is being overshadowed in some cases by other media outlets with higher growth rates. Online advertising should increase almost 50 percent from 2007 to 2011, from $17.7 billion to $25.9 billion, according to JupiterResearch.
Technical advances, starting in the '70s, represent one reason why the growth in TV advertising has slowed. The remote control enabled consumers to conveniently change channels once a commercial came on or to turn off the sound so they didn't have to listen to advertisers' pitches. The VCR made it possible for viewers to record their favorite shows and fast forward through the commercials. Recently, the Internet has enabled individuals to catch up on the latest news without waiting for the evening reports — or even a cable news show. The digital video recorder (DVR) has made watching commercials even more of an option than it was with the VCR.
Making Ads Stickier
Recognizing the impact of these changes, television networks have been taking steps to protect themselves. One way they are fighting back is by using technology to make ads more appealing. Recently, the networks started to embed special messages into their ads that consumers would not want to miss. For example, if viewers used DVRs, they missed an opportunity to print out a special coupon for free items from KFC.
Another shift is movement from traditional advertising to product placement. Increasingly, companies are paying to have their products displayed during a show. For instance, a character in a sitcom may sip a Coke rather than a generic soft drink.
In addition, the networks are being more creative in displaying their advertisements. NBC's popular sitcom "The Office" put together a series of fake public service announcements (PSA) that mimic the network's PSAs. Viewers did not realize the ruse until the announcements took bizarre, humorous turns at the end of the commercials. Theoretically, consumers would then be more likely to sit through real advertisements because they are not sure if they too are part of the show.
Rather than simply fight the movement to other media types, networks are co-opting them. "In the advertising community, the idea has been to develop multichannel communication mechanisms," JupiterResearch's Chanko told the E-Commerce Times.
Reaching for the Gold
TV is often driving such movements. In September 2006, America Online teamed with Mark Burnett Productions — the force behind "Survivor" and "The Apprentice" reality shows — to develop the interactive game "Gold Rush." The game, which began at the start of the television season and will finish when it ends, requires that players monitor CBS television programs and commercials for clues that lead to the location of $2 million in gold.
Shows like "American Idol" and "Dancing with the Stars" drive individuals from their living rooms to the Internet to vote for their favorite contestants. Similar crossover promotions take place during collegiate and professional sporting events.
Networks are also now distributing their shows on the Web. "A year or two ago, who would have thought that viewers would be able to watch 'Lost' over the Internet?" asked ANA's Bacci-Mirque. In addition, the fake PSAs featuring "The Office" can be viewed for free only as real ads stream silently next to the video while individuals watch them.
The new multimedia outlets have attractive features. Online tracking software makes it relatively easy to obtain demographic information about the individuals who click on items on a Web page. "Advertisers have always wanted better way to measure audience viewership of their commercials than the TV ratings systems, which guess rather than actually count who is viewing a show," noted Borrell Associates' Borrell. "The Internet offers the ability to pay for advertising only when a lead is generated."
Another plus is that consumers now spend more time with different media outlets. "The overall advertising base is expanding because individuals now are online or watching TV for longer periods of time than in the past," Borrell said. "In fact, in many cases, they multitask: Watch TV while surfing the Net."
The end result is dramatic change to traditional advertising patterns.
"We live in a dynamic environment," concluded Bacci-Mirque. "Two years from now, we may be talking about the emergence of new advertising channels, such as wireless systems. To thrive, television networks need to be aware of these changes and respond to them appropriately."