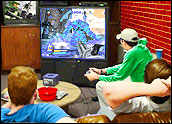 Advertisers face multiple new challenges today. Consumers' viewing and purchasing habits are changing dramatically, the number of ways to reach potential customers is increasing and new techniques to measure advertising effectiveness are emerging. The confluence of these changes is leading advertisers to a new medium: in-game video game ads.
"Recently, there has been a lot of talk about and a lot of interest in in-game advertising because it offers companies a new way to reach key customers," said Michael Cai, director of broadband and gaming at market research firm Parks Associates, which estimates that this market generated US$80 million in worldwide revenue in 2005. Enterprises, such as Toyota Motor Sales USA and Major League Baseball, have adopted this channel, so their products are now displayed during video games.
However, the in-game advertising model is new, and the metrics to determine its success or failure are imprecise at the moment. In addition, advertisers need to make sure that their product placements do not detract from the gaming experience or create negative rather than positive impressions — something that occurred with Internet pop-up ads.
Ready for Some Football?
The concept of placing advertisements in video games emerged during the last few years. One driver is that gaming has become a mass market — literally millions of individuals play "Madden NFL" and "World of Warcraft" each month.
Also, technology solutions have emerged to allow companies to place their advertisements in packaged or online games. Initially, the ads appeared similar to product placements in movies and TV shows, with advertising messages appearing on items like pizza boxes, soda cans, billboards, stores and posters. The number of items that can be displayed is limited only by the advertisers' imagination. Cars, clothes, consumer electronics items and consumer goods are all obvious selections. "A game developer can replace a generic local supermarket with a real one," Rob Enderle, principal analyst for the Enderle Group, told the E-Commerce Times.
These advertisements can be more precise than traditional media. For example, the ad displays can be based on a game's plot, an emerging storyline or a player's performance. Ads also can be served up based on specific actions within a game, like achieving a certain score or completing a tricky move. Advertisers can follow through with an e-mail message or even call a mobile phone once a player has completed a game.
Targeting a Captive Audience
The in-game ads may be effective because players have no choice but to observe them. "With TV commercials, individuals can change the channel or walk out of the room if they are not interested in a commercial," Billy Pidgeon, program manager at market research firm IDC, told the E-Commerce Times.
Gaming also offers advertisers a way to market to a highly desired demographic. Recently, advertisers have struggled to reach 18- to 34-year-old males because they spend less time with traditional outlets, such as television and newspapers, than other target groups.
The in-game ads also provide gaming companies with a new revenue stream. Advertisers pay game publishers $1 to $2 for each game they ship. "Developers need to find new revenue sources in order to offset their costs," Enderle noted. New revenue streams are becoming more important as the cost of video game development skyrockets due to the increased complexity of the games and their underlying technology.
Google Hot on Microsoft's Heels
The new advertising model has attracted a wide variety of backers. In May 2006, Microsoft spent a few hundred million dollars to purchase in-game advertising startup Massive. One of the first advertisers to utilize Massive's services was Toyota Motor Sales USA, which launched a campaign for its new 2007 Yaris sedan in "Anarchy Online," a multiplayer online game published by Funcom. Massive, which had been in business since 2004, also signed deals with Major League Baseball and Take-Two Interactive Software to populate MLB-branded games with dynamic advertising messages.
Google has been involved in a high-stakes battle with Microsoft for supremacy in the online advertising market. So it was not surprising that in March 2007 the company acquired Adscape Media, another in-game advertising startup, for an estimated $20 million to $30 million.
Many other new enterprises have entered the market. Double Fusion developed a patent-pending technology that delivers a range of advertisements inside and around multiple video game and casual game titles. IGA Worldwide signed an exclusive agreement with Acclaim Games to deliver in-game advertising for its titles, including "BOTS," "9Dragons," and "Dance." Exit Games has a partnership with Amobee Media Systems to help cellular network operators and game publishers realize additional revenue streams from wireless in-game advertising.
Goliaths Ready to Battle?
Nevertheless, the different in-game advertising companies may face more challengers. Established gaming suppliers, such as Sony and Electronic Arts, are expected to leverage their top market positions to enter the in-game advertising space.
While many companies are entering this marketplace, one of its biggest questions revolves around the lack of third-party measurements to gauge the ads' effectiveness. "A lot of models are being tried, but none have yet emerged as the best one," IDC's Pidgeon stated. In addition to the various in-game vendors, companies such as Nielsen Media Research are working on ways to measure the advertising's effectiveness.
Another challenge is the need for advertisers to focus on the players' experiences. "Advertisers have to be creative and provide gamers with tangible benefits from the ads; if they are just interested in displaying their ads, their efforts will eventually fail," Parks Associates' Cai told the E-Commerce Times. Techniques now being tested to tighten the bond between player and advertiser include special promotions, rebates, coupons, newsletters and text messaging follow-ups.
Nevertheless, the most viable of these techniques will emerge in the next few years, and that is one reason why Parks Associates expects the in-game advertising market to grow to $400 million in worldwide revenue in 2009.