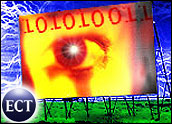 You come home one night and want to catch up on a local sporting event or your favorite show. You sit down, pick up the remote for your DVR (digital video recorder), and start watching. As the first commercial appears, you — like most individuals — hit the fast-forward button. As you do so, advertising executives, TV networks and even DVR makers themselves wonder: What good are commercials if viewers like you don't watch them?
The question continues to haunt TV executives as they grapple with the erosion of their traditional advertising base. The medium of television gained acceptance and became the key component for countless ad campaigns over the later half of the 20th century, mainly because of TV's ability to deliver more potential customers than alternatives such as radio and newspapers.
However, television's hold on consumers has been gradually eroding, starting with the introduction of cable service in the 1970s, which began fragmenting its market. Moreover, recent changes have been so dramatic that revenue has flattened out. In response, the major networks, advertisers, and even organizations like TiVo — itself a pioneer in the field of DVRs — have been searching for ways to add back some of the luster TV advertising has lost.
Back to the Future
Skipping ads is not exactly a new behavior. After all, viewers have never been shackled to the sofa. "There were dramatic increases in water pressure during the commercial breaks of 'I Love Lucy' in the 1950s," Barbara Bacci-Mirque, executive vice president at the Association of National Advertisers (ANA), told the E-Commerce Times.
Initially, viewers would simply walk to the bathroom or the kitchen during commercials, but technical advances have provided them with more options. The remote control enabled consumers to change channels whenever a commercial came on or turn off the sound so they didn't have to listen to a company's pitch. Long before TiVo became a verb, the VCR (videocassette recorder) made it possible for viewers to fast-forward tapes past the commercials.
However, the DVR made it even easier for viewers to automate their recording habits — and it also gave corporations the ability to monitor how many viewers were bypassing the advertisements.
"TiVo execs have seen huge fluctuations in activity when commercials played, so it is obvious that consumers are skipping the commercials," David Graves, a principal analyst at Forrester Research, told the E-Commerce Times.
TV Advertising Falls Flat
This change is one reason TV advertising has been relatively flat; it will grow only 1.5 percent in the U.S. in 2008, predicted market research company Screen Digest. This small increase is coming during what should be a boom year, judging by past performance. The Olympics and presidential elections typically spark a significant boost in spending.
TiVo is working with advertisers and TV networks to increase commercial viewing.
"To date, TiVo's business model has been based on building up its subscriber base, but there are limitations with how much money that model can generate," Gordon Borrell, president of Borrell Associates, an advertising market research firm, told the E-Commerce Times. "To be successful, the company will have to look for additional revenue streams, and advertising is an attractive option."
Various approaches are being piloted. Recently, consumer good suppliers started to embed special messages that would directly benefit consumers who chose not to skim through them with the fast-forward button. For example, if individuals used DVRs to zoom past a particular KFC commercial, they missed an opportunity to get a special coupon for free items.
Opt-In Advertising
TiVo has also been tinkering with various "opt-in" formats. "While viewers do not want to watch advertisements that are not relevant to their interests, they do seem willing to watch those associated with their hobbies," Forrester's Graves said.
The new feature is designed to allow users to receive advertisements based on their interests, based on user profiles created on the TiVo set-top box. The technology is aimed at giving advertisers a more targeted and interested pool of potential buyers while attempting to deter users from immediately reaching for the fast-forward button the moment a commercial break begins.
Initial results have shown that between 5 percent and 15 percent of users will view the relevant ads. While that percentage appears low, it represents a highly targeted group of interested consumers, so it appeals to advertisers. The TiVo options will also record view and response rate metrics associated with the spot, which helps advertisers determine the effectiveness of their ads.
The Internet Comes to TiVo
TiVo is taking the concept one step further. The company recently teamed with Amazon to provide consumers with the ability to purchase physical products from Amazon.com on their TV sets. A user interested in a particular product featured in a show can use the TiVo remote to buy it through the online retailer.
In addition to using TiVo as an advertising medium, another industry shift is movement from traditional 30-second advertisements to product placements. One option is having products displayed during a show — for instance a character in a sitcom may sip a Coke rather than a generic soft drink. Another approach integrates the product deeper into the television show itself. "We are seeing movement to more sponsored shows, just like products like Borax in the '50s," ANA's Bacci-Mirque said.
The idea of a sponsorship is to have consumers watch ads tied in tightly with a show's actual content, eliminating the viewer's ability to simply fast-forward through them. Here, the messaging is incorporated in the show itself.
TV networks are not sitting idle as new technical advances threaten their business. TV is a dynamic medium, one that has been changing since its introduction in the 1950s. While its luster has dimmed recently, it still remains an attractive medium.
"Even today, with the market erosion, the easiest way for an advertiser to reach a broad number of potential customers is through network television," concluded ANA's Bacci-Mirque.