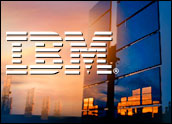 In an effort to get ahead of the curve with "emerging storage opportunities," IBM purchased XIV, an Israeli storage technology company headed by a big name in the storage industry: Moshe Yanai.
Big Blue did not disclose the purchase price, but Israel's financial daily Globes reported IBM spent between US$300 million and $350 million. IBM's stock price declined after the deal was announced, possibly indicating some investors thought the rumored price was too high.
IBM got a good deal if the reported price range was accurate, however, said Mesabi Group Principal David Hill.
"That's a very reasonable price," Hill told TechNewsWorld. "You're talking about a new way of doing storage architecture."
A Storage Fixture
Yanai's influence in the storage world cannot be underestimated, Hill said.
"He was chief architect and head of engineering for EMC during its growth spurt in the 1990s," noted Hill. "He's the father of Symmetrix. He has a worldwide reputation for developing storage solutions. This is an important announcement by IBM. XIV is not just a small startup, but one crafted by a leader of the storage industry."
"We are pleased to become a significant part of the IBM family, allowing for our unique storage architecture, our engineers and our storage industry experience to be part of IBM's overall storage business," said Yanai.
The XIV team's level of storage area network (SAN) innovation "is unparalleled in the storage industry," Yanai said. The technology will be better able to "tackle the emerging Web 2.0 technology needs and reach every corner of the world" now that it has behind it IBM's research, sales, service, manufacturing and distribution muscle, he added.
Extraordinary Performance, Ordinary Hardware
IBM coveted XIV's hallmark product, Nextra, for its ability to scale, self-heal and self-tune "while eliminating the significant management burden typically associated with rapid growth environments."
Also, the Nextra architecture automatically optimizes resource use by all components in an enterprise system. This affords easier management and configuration as well as improved performance and data availability, IBM said.
Nextra's performance is achieved through innovative use of mass parallelism, a unique caching design and perfect load-balancing. It uses "off-the-shelf" standard hardware such as Intel-based servers, XIV said.
XIV first began producing Nextra grid architecture about two years ago. More than four petabytes of Nextra storage capacity is currently in use worldwide.
Easier to Just Buy It
With the acquisition, XIV will become part of the IBM System Storage business unit of the IBM Systems and Technology Group. The companies did not reveal what role, if any, Yanai will serve.
The XIV deal strengthens IBM's infrastructure portfolio and will put Big Blue "in the best position to address emerging storage opportunities" such as Web 2.0 applications, digital archives and digital media, said IBM System Storage General Manager Andy Monshaw.
"IBM had their standard architectures, very solid architectures and some very advanced thinking," said Mesabi Group's Hill. "They had a lot of innovative thinking on this particular subject area."
Nevertheless, it makes sense for IBM to buy XIV, a company "with 50-plus patents available to them and success in accounts in Israel and elsewhere … rather than try to develop it themselves," said the analyst.
The Johnny Damon Effect
Yanai certainly is a star to those in the know, said Charles King, principal analyst at Pund-IT.
"In the storage world, he's as good as it gets," Hill told TechNewsWorld. "He is largely responsible for what has been one of the most enduring enterprise-class storage systems on the planet."
King was discussing the XIV/IBM deal with a friend who equated it to "a former star player with the Red Sox moving to the New York Yankees," he said.
While Yanai's presence gives the deal "a certain amount of PR value," King said it will be good for IBM on a deeper level.
"The technology itself seems very, very interesting and the acquisition can be interpreted to mean IBM is being very pro-active in moving toward taking a leadership role in next-generation storage," said King.