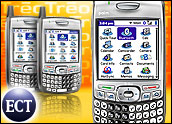 Palm will rely on "operational rigor" to right itself after a disappointing second fiscal quarter, one where the company lost nearly US$10 million, its CEO said.
"We've taken actions to align our expenses to the current operating environment and are focusing on core initiatives that will have the greatest impact on achieving our long-term success," said Palm President and CEO Ed Colligan.
For the 2008 second quarter, the Sunnyvale, Calif., company reported a net loss of $9.6 million. The bad situation looks even worse when compared to Palm's 2007 Q2 results, when the company reported net income of $12.8 million.
Taking the Heat
Colligan made no attempt to whitewash the situation. "Q2 did not meet our expectations," he commented. "We did not execute as well as we need to."
The CEO laid much of the blame on problems with the rollout of the Treo 755p smartphone, now being sold for the Verizon network. The device's launch was delayed by certification issues, he said.
"The time required to run every quality issue to the ground before release pushed delivery of the product out of the quarter, and was the primary reason we did not meet our revenue expectations," said Colligan. "As you know, we have experienced quality issues on legacy products that have affected customer satisfaction and driven up warranty costs."
Part of Palm's recapitalization deal with Elevation Partners was a commitment to transform Palm almost from the ground up, and Colligan said the restructuring is under way.
The hiring of former Apple executive Jon Rubinstein as executive chairman "has made a profound impact on Palm in very short order," said Colligan. "I expect him to continue to strengthen our team and drive them to deliver breakthrough products and underlying technology platforms."
The Bright Side
Supply chain and other production difficulties couldn't have come at a worse time for Palm, as the Apple iPhone continues to gain market share and other smartphone companies come out with new units that make Palm's lineup look outdated. Nevertheless, Colligan remains optimistic. The company's inexpensive Centro "is a hit" that has delivered "record sell-through rates beyond any smartphone Palm has delivered to date," he said.
Palm customers are expanding their deployments of Windows Mobile-enabled Treos and are choosing Palm and its Microsoft-based platform instead of Research In Motion's BlackBerry "because of the superior industry standard solution and lower total cost of ownership," Colligan said.
Palm plans to leverage Windows Mobile and "the market advantage of Microsoft's brand and market support. "We recognize we need to build a larger array of offerings and retake the mantle of design and innovation leadership, and that work is under way," promised Colligan.
Not So Simple
It will take more than promises to convince those whose experience with Palm devices has created a deep-seated bad taste. Nucleus Research Senior Analyst David O'Connell, who owns a Palm Treo 650, is one of them.
"Palm really blew it," he told the E-Commerce Times. "I know so many people who were enthusiastic Palm loyalists back in the beginning when it first came out. But now there are a lot of technically sophisticated people with nothing good to say."
O'Connell said he is far from the only person who has found it nearly impossible to get his Treo to sync with his PC."
"If you Google 'hot-sync problems Treo 650,' you see all sorts of people grasping at straws," said O'Connell. "One person said, 'When you put the Treo 650 on its cradle and gently rock it back and forth, it works.' That's how ridiculous this is."
Colligan vowed Palm is improving. "While we can't change the past, we are determined now and in the future to deliver only products that top industry standards for quality," he said.
Palm may never be able to catch up, O'Connell said. "They missed a bunch of opportunities over the years. Music: They just weren't there. They have too many models, too much confusion. I'm really not sure what they can do to get back."
Wanted: Innovation
Palm is definitely under pressure as others in the highly competitive smartphone industry pull ahead, NPD analyst Ross Rubin said.
"It's no secret that the core of the Palm OS has been aging and the company needs a new home-grown platform to reinvigorate itself and set itself apart in the industry," Rubin told the E-Commerce Times. "They continue to have the Windows mobile business that they focus on for the enterprise, but … right now it's tough to compete with technology that hasn't seen a significant update in many years."
NPD research has shown the iPhone to have captured a lot of former Palm owners, Rubin said. While BlackBerry users (especially those who are part of managed enterprise environments) are not making the switch, "the iPhone seems to have strong appeal to the mobile professional that has been the core of the Treo base," said Rubin.
While Palm is working on a new platform, he noted that "it probably won't appear until late 2008."