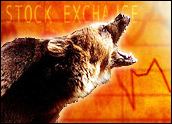 Handheld device maker Palm saw its stock take a hit after reporting a fiscal loss for its first quarter and issuing a weaker-than-expected forecast that suggests it is struggling to regain ground lost to rivals such as Research In Motion and Apple and as it shifts its focus to lower-cost devices.
Palm reported a net loss of US$841,000, or a penny per share, compared with a net profit of $16.5 million a year ago, with restructuring expenses and stock options helping to weigh on the bottom line.
Revenue for the quarter was $360.8 million — about in line with projections and analyst expectations — up just slightly from $355.8 million in the same quarter of 2006.
The weakness came despite a 21 percent increase in units sold, with Palm saying it shopped 689,000 PDAs and smartphones in the quarter that ended in August.
However, the Sunnyvale, Calif., company's second-quarter outlook is what disappointed investors. Palm forecast earnings and revenue would come in lower than Wall Street expected. Sales were forecast at $370 million and $380 million, compared with analyst projections of more than $400 million.
Down Market
Palm shares lost more than 4 percent in late morning trading Tuesday, falling to $15.34 in heavy trading.
Palm is well-positioned going forward as it finalizes a recapitalization — it announced in June it would take $325 million in cash from private equity firm Elevation Partners, which will take a 25 percent stake in the company — and rolls out new products and a new software platform, said Palm CEO Ed Colligan.
Colligan pointed to launches that occurred after the end of the quarter — including a Palm Treo for Vodafone and a Centro in partnership with Sprint — as evidence the coming quarter will see more sales.
More of those sales will likely be of lower-margin, lower-priced devices, however, which is why the company is forecasting lower profits and sales. The Centro, for instance, will retail for around $99.
Palm's onetime image of coolness has been usurped by competitors, especially Apple by with the iPhone, JupiterResearch analyst Michael Gartenberg told the E-Commerce Times.
"Some people aren't willing to pay for that cachet, however, but want a phone that has more functionality and it can tap into that market," he said. Palm believes that market for so-called enhanced phones to be far larger than that for higher-end smartphones, Gartenberg added.
A wider range of products, including those with lower price tags, are necessary for Palm to expand its reach to include new customers who have not previously owned PDAs or smartphones, Colligan said. Palm expects to see lower sales of its high-priced Treo family of device due to the Centro's arrival in the market, he added.
In a conference call, Colligan tried to keep attention focused on the long-range outlook for the company. The Centro arrives just in time for it to become a hot holiday gift item, he noted, adding that 2008 holds more promise as Palm rolls out the long-awaited next-generation version of its mobile operating system.
Product Pitfalls
Palm has a spotty track record with new product releases recently, however, with its Foleo — a mobile Web device that was meant to be used with two hands like a small laptop — a bona fide dud that had production canceled after just a few months.
Palm has gotten better with its product offerings recently, said Gartner analyst Ken Dulaney, but needs to sign more carriers on to its products in order to create the type of market presence it needs to compete with RIM and others.
"The competition is fierce and moving very quickly," Dulaney told the E-Commerce Times. The arrival of the iPhone has resulted in an entire new generation of multi-function devices and RIM continues to add to its product portfolio to appeal to both consumers and business users. "If Palm wants to remain relevant, it needs to continue to execute on its product rollouts during 2008."