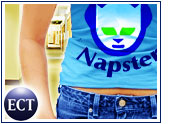 A new mobile phone Samsung is making for AT&T will include Napster Mobile, a service that allows owners to search, preview and buy music from Napster's catalog of 5 million songs.
The phone, called the "SLM by Samsung," will be available in stores on Friday, said AT&T. The new phone is the first device to support Napster Mobile, the company's mobile wireless music initiative. Customers will be able to find, buy and download a song in less than one minute, AT&T said.
The pairing of AT&T and Napster happened earlier in the year, noted Chris Ambrosio, director of wireless device strategies service at Strategy Analytics.
"ATT Mobility has partnered with Napster to allow its subscribers to access music catalogs and download to their phones," Ambrosio told the E-Commerce Times. "This was announced back in the beginning of the year. This Samsung phone is one of the specific devices that will support that offering."
Bundle or One-Off
Napster Mobile allows customers to download five songs per month for US$7.49. Songs can be purchased individually for $1.99 each. Customers using their phone to select the five-per-month plan, called the "Napster Mobile Five-Track Pack," will receive the first five songs at no charge.
AT&T claims to be the only national wireless provider that allows customers to buy full songs over the air from both Napster, and eMusic, which it described as the world's largest retailer of independent music.
The SLM will be sold at select AT&T stores and online. It will cost about $150 with a two-year agreement and a $50 mail-in rebate.
Shifting Sands of Mobile Music
AT&T's association with Apple as the exclusive U.S. provider for another music-friendly cell phone — the iPhone — casts a question mark over the deal with Napster, since the Apple iTunes Store is a direct competitor of Napster.
It seems the mobile wireless interface with the digital music world is still in a state of flux.
"AT&T, like Verizon and the other top carriers globally, has already realized that, due to the difficulty of accessing operators' music content, the limited nature of what operators can offer in terms of music content and the expensive nature of carrier music content versus what users can access and download directly off the Internet, most users will keep downloading content from the Internet to their PC," said Ambrosio.
Cell phones will be synchronized with PCs for music users want the most, he added.
AT&T "has accepted this fact, and views this music partnership with Napster as a 'value-added' offering that will keep users on the AT&T network," said Ambrosio.
He said the Napster deal — and the new phone with Napster essentially built-in — merely "open a wider chance for AT&T Mobility to monetize the other cellular data services these users will require in the future" such as SMS/text messaging and PC card/notebook connectivity.
More Than Just Napster
The phones have a clamshell design with brushed metal finish that will come first in brown and later in blue, said AT&T.
In addition to Napster Mobile, the SLMs will include AT&T Video Share, mobile banking, AT&T Mobile Music (including XM Radio Mobile, Pandora, MusicID song-recognition service and VIP access, a mobile fan club and music-discovery service), stereo Bluetooth technology, a 2.0-megapixel camera with video capture, microSD external memory and advanced messaging options.
The SLM will be based on dual-band 3G connectivity with download speeds of 600 to 1,400 Kbps and on quad-band GSM technology allowing international use. It comes with a 512 MB SD memory card, a 96- by 96-pixel 65K color external screen and a 176- by 220-pixel 262K TFT internal color screen.
Bells Without the Whistles
The SLM appears to be a decent choice for those looking for an affordable phone that also plays music, Jupiter Research wireless analyst Neil Strother said.
"It looks like an interesting phone for the music fan, and the price means budget-minded people should be able to afford it," Strother told the E-Commerce Times. "The Napster feature does help with discovery of music, but not all will be willing to sign up for a monthly subscription. Having 3G helps with data speeds, of course."
The 512 MB SD card "seems a bit light when many people think of gigs instead of megabytes." While the SML "doesn't have the wow factor of an iPhone," Strother said it "could be 'good enough' for the more casual music fan."