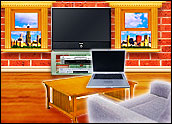 Bolstering its online portfolio of informative offerings, Discovery Channel owner Discovery Communications is buying HowStuffWorks.com and planning to merge content to create a sort of "video Wikipedia."
Terms of the acquisition were not disclosed, but Silver Springs, Md.-based Discovery noted HowStuffWorks attracts about 11 million unique visitors each month, a figure that has grown 25 percent over the past year.
The site is complementary in many ways to the Discovery Channel and will strengthen its position as "the No. 1 nonfiction media company dedicated to providing knowledge and satisfying curiosity across all platforms," Discovery said.
HowStuffWorks "explains the world" through its exclusive rights to more than 30,000 books, 800,000 images and more than 180,000 maps, said Discovery Channel in announcing the acquisition. HowStuffWorks also is highly ranked by search engines and has won a number of Webby awards.
Building Out the Digital
The purchase is a "strategic bull's eye" for Discovery Communications, said President and CEO David Zaslav. The deal will help him reach his goal of building out Discovery's digital media portfolio, he said.
"With HowStuffWorks, Discovery now has a solid platform for strengthening our digital businesses, leveraging our video assets to create new experiences for users, advertisers and our distribution partners, and taking those opportunities around the globe," said Zaslav.
Being bought by Discovery helps HowStuffWorks meet its goals of satisfying consumers and gathering large audiences, CEO Jeff Arnold said. Arnold, who will continue in his position after the merger, described Discovery as being a "complementary brand with extensive media assets."
The plan is to contextually integrate Discovery's library of more than 100,000 hours of video clips with HowStuffWorks' "family-friendly" collection of articles, Arnold said. The end product could be described as an accurate "video Wikipedia" for information seekers, he said.
Rise of the How-To Videos
Discovery's move might be timely because there is growth occurring in the field of online instructional video, said Forrester Research analyst James McQuivey.
"There is already a kind of an underground movement of how-to video that's been emerging," McQuivey told the E-Commerce Times. "In YouTube, there's a very well-established camp of people producing how-to videos for a whole range of topics."
YouTube is doing very little to promote or brand these videos, something Discovery and HowStuffWorks could do well. "It's interesting timing that the folks at Discovery would recognize that now would be the time to get into this, before somebody else brands themselves as the destination for how-to-do things," McQuivey noted.
The how-to video trend will continue, Gartner analyst Andrew Frank said. "It seems like a natural extension of what people use the Internet for to begin with," Frank told the E-Commerce Times.
Discovery might consider setting aside a section for amateur how-to videos, "so they can encourage the wiki-ization of not only how-to but also life coaching and self improvement videos," McQuivey suggested.
This "would be a good thing to do provided they had the infrastructure in place to make sure they were all filtered and properly tagged and so forth and didn't contain any unwanted material," Frank said.
Doing that is expensive, "but it's something increasingly being embraced by these video networks, and it's a good candidate for offshore-type workforces," he said.
The TV and Internet Mashup
Discover plans to "expand its programming franchises dedicated to popular science and popular technology," including the "Mythbusters" and "How It's Made" shows. It is developing and producing additional programs that can be easily edited down to short video clips, which can be found online at HowStuffWorks.com and its other online platforms.
Discovery also plans to air a new "How Stuff Works" television show, an effort it is calling a "convergence of television programming and Internet content" that will air on the Discovery Channel next summer.
As part of the HowStuffWorks deal, Discovery is also acquiring a number of other digital properties, including ConsumerGuide.com, a database of digitized maps owned by GeoNova Group (formerly MapQuest Publishing) and medical education company QuickCompliance.