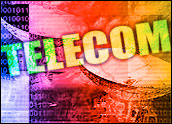 In an effort to further streamline its operations and somehow become more competitive, French-American telecom equipment maker Alcatel-Lucent is planning to ax about 4,000 workers during the coming year.
Cutting jobs is nothing new at Alcatel-Lucent. The company in February announced it would lay off 12,500 workers due to its financial struggles and it has already trimmed about 5,000. About 1,000 of those job cuts came during the last quarter, said Alcatel-Lucent.
Also being shown the door is Jean-Pascal Beaufret, whose job as chief financial officer is being given to Alcatel-Lucent Enterprise Group leader Hubert de Pesquidoux.
CEO Patricia Russo announced the creation of a seven-member management committee that will report to her directly and will "lead the overall operation of the company, creating a more focused and efficient operating model."
Baby Steps?
Many analysts were expecting the company to turn a small profit in the third quarter. While Alcatel-Lucent reported a 2.3 percent increase in revenue from the second quarter, expenses won the battle for the bottom line. The company reported an adjusted net loss of about US$499 million.
An optimist would note that $499 million in red ink is better than the $844 million loss reported for the second quarter. However, it's painfully distant from the nearly $767 million profit enjoyed by Alcatel-Lucent in the third quarter of last year.
Alcatel-Lucent said its year-over-year revenue declined 7.8 percent.
Signs of Life
On the brightish side, the company — formed in December 2006 when Paris-based Alcatel bought New Jersey-based Lucent — said all of its business segments grew during the third quarter. The optical network part of its carrier segment saw strong double-digit growth, and the GSM business "continued to gain traction due to a refreshed portfolio, registering a second consecutive quarter of double-digit revenue growth," said Alcatel-Lucent.
The cost-cutting efforts resulted in a 5.6 reduction in operating expenses compared with Q3 of 2006 and a 3.2 percent reduction compared to this year's second quarter.
"Market conditions remain difficult," Russo said, citing "intensified competition and some slowdown of spending in North America" as the root of Alcatel-Lucent's struggles.
Doomed from the Start
The merger that created Alcatel-Lucent was a bad idea made worse by a slowdown in the telecom industry, said 24/7 Wall St. analyst Douglas McIntyre.
Cost-cutting and efficiency boosting aren't enough when they are not matched with innovation and marketing, McIntyre said.
"The biggest problem with Alcatel-Lucent is that when two week companies are combined, it does not usually make a stronger one," McIntyre told the E-Commerce Times. He noted that purchasing at global telecom companies "has been hurt by mergers like the one between Bell South and AT&T."
Meanwhile, Alcatel-Lucent will have a tough time convincing analysts and investors that gutting itself in the name of efficiency is sufficient. Alcatel-Lucent "has lost Wall Street by telling a cost cutting story," he said, adding that investors "expect to see the company take market share from companies like Nortel and rebuild a strong revenue base."
Although the company predicts a solid ramp up in revenue for the fourth quarter, it concedes the yearly revenue figure is likely to be flat.