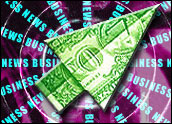 Lucent Technologies warned Monday that lower sales in North America would cause its revenue and profit to drop from a year ago for the quarter that ended in June.
Murray Hill, N.J.-based Lucent — which agreed to be bought by Alcatel of France earlier this year in a deal worth US$13.45 billion — said revenue for its third quarter would be $2.04 billion, down considerably from $2.34 billion in the same period in 2005 and also below second-quarter revenues of $2.14 billion. Analysts had been projecting $2.3 billion in revenue for the quarter.
Spending Slowdown
Profits will also miss many analyst forecasts, with Lucent now saying it will earn 2 cents per share, compared to 7 cents a year before and consensus forecasts of 5 cents. Lucent reports formally at the end of July.
"Our North American mobility business was adversely impacted by a slowdown in spending on some of our current-generation wireless solutions," said CEO Patricia Russo. "However, we are beginning to see some of our customers move toward the next phase of mobile high-speed data."
The merger mania that hit the telecom industry has also been a factor, according to Russo.
"Year-to-date results also have been affected to some extent by delays in spending that we believe are attributable to the consolidation efforts of certain customers," she said.
"That said, we believe consolidation will lead to opportunities as service providers look to us to help them integrate their large, complex networks."
Russo said the company has received two orders for next-generation high-speed wireless gear from Verizon Wireless and Telecom New Zealand and expects more similar spending to occur in coming quarters.
Investors appeared impatient, selling off the stock, which lost nearly 4 percent in morning trading Tuesday to fall to $2.25, which also represents a one-year low for the stock.
Moving Forward
Separately, Lucent said it expects as many as 9,000 jobs will be eliminated as it wraps up its merger with Alcatel.
The Alcatel merger, which will result in the company being headquartered in France, is on track to be completed by year's end, Russo said, within the six-month to one-year time frame the company laid out when it announced the deal on April 2.
Janet Davidson, who is heading the integration team for Lucent, said the number of job cuts projected rose slightly from 8,800 in previous estimates after "further analyses of each business activity" that "identified significant cost synergies."
Davidson said Lucent and Alcatel believe they can save $122 million within three years in real estate costs by combining facilities and more than $300 million by combining and streamlining purchasing processes.
Russo, who will become CEO of the merged company, said the combination will result in a company that will have a strong financial footing, a broad customer base and global reach. "It will then be up to us to build on this momentum to generate growth and to create value for all of our constituents," she added.
Warning Shot
Alcatel and Lucent were forced to merge by the larger trends in the telecom space, which has dramatically reduced the number of customers who would buy the wares of heavy-duty gear makers, according to telecom analyst Jeff Kagan.
"The number of companies is shrinking, but at the same time, the demand for better, faster and bigger networks isn't slowing at all," Kagan said. The merger will also mean more focused use of research and development dollars as well, which could help accelerate next-generation technologies. "The merged company will better reflect the new telecom marketplace."
Meanwhile, the Lucent revenue and profit warning reverberated around the technology sector, helping to drag down stocks and revive questions about the overall spending of the telecommunications and IT gear niches. With earnings season about to start in earnest, investors are watching closely for signs of a slowing economy.
Lucent's results reflect its reliance on a small number of customers, with decisions by one or two to push back investments in network gear or await new technology having a dramatic impact on the top and bottom lines.
Its small customer base exposes Lucent more to individual purchasing decisions than other companies in the telecom and tech space, said Paul Sagawa, an analyst at Sanford C. Bernstein & Co. The company has loyal customers, he added, who are more likely to be moving purchasing decisions around than shopping with competitors.